Notice to Recall Certain B&K Precision Model 875B LCR Meters
YORBA LINDA, CA, June 19, 2009 -- Dear B&K Precision Customer:
B&K Precision is voluntarily recalling a limited number of our 875B LCR Meters that were manufactured between January 20, 2009 and March 4, 2009. The affected serial numbers' identifying information is listed below. This recall will remain in effect through September 4, 2009.
If you own one of the meters that is included in this recall, please send it back to B&K Precision for replacement. Please use the information below to determine if your meter is included.
Problem Details:
Through quality inspection testing, we discovered certain measured resistive values will be well outside of specified parameters. This may lead to misdiagnosis or mislabeling of a tested resistive component. This recall is not related to any operational safety or hazard issue.
Affected Series:
| | | | |
| --- | --- | --- | --- |
| Model Number | Starting Serial Numbers | Ending Serial Numbers | Notes |
| 875B | CF1001 | CF1100 | All units in this series are affected and are included in this recall. |
| 875B | CB1020 | CB1044 | Only units with the affected PCB needs to be sent back. Please see images below to determine if your unit is affected. |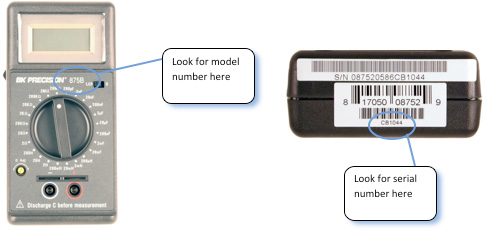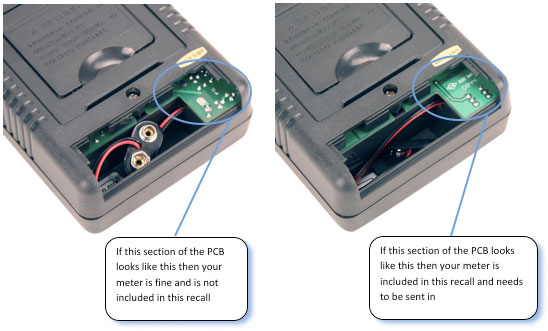 Actions:
Stop using your 875B for resistive measurements if you purchased it in the first half of 2009.
Verify that your meter is affected by using the Affected Series table and images shown above.
If you find that your meter is included in the recall, please click this Product Recall Return Form link and fill in the requested information. We will send you a prepaid mailing materials to return your meter at no cost to you.
Please keep a copy of the serial number(s) of the meter(s) you sent in for your records.
Once B&K Precision receives your meter, we will send you a replacement 875B free of charge.
For more information:
In North America call (800) 462-9832, 7:00am to 5:30pm Pacific Time, Monday-Thursday or anytime via our Customer Feedback/Contact Us Web Tool.
Outside of North America please contact us via our Customer Feedback Contact Us Web Tool.