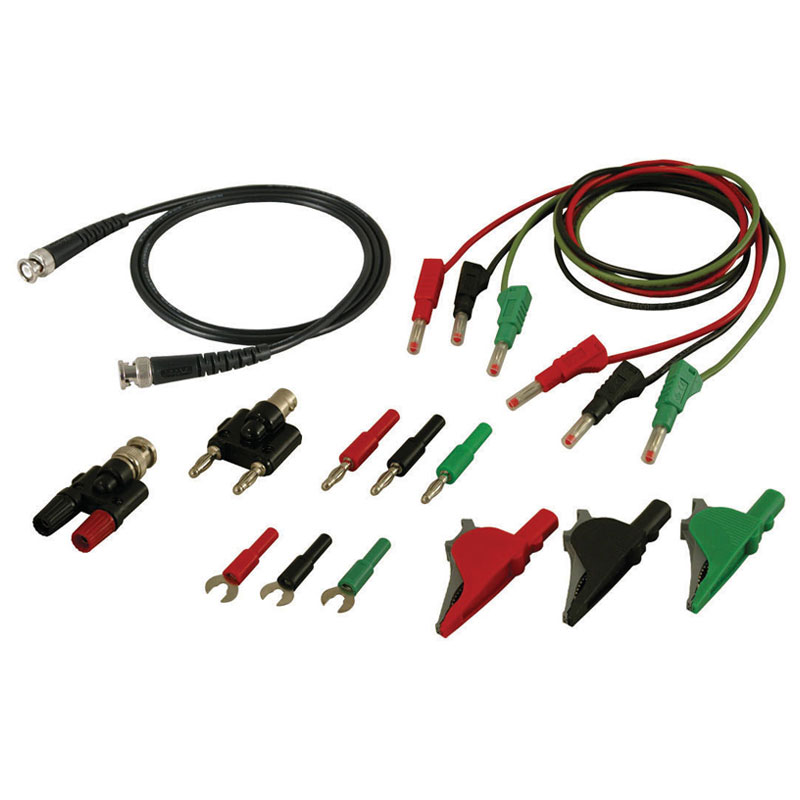 Model CC545
General Purpose Power Supply Accessory Kit
Price: $132
Overview
Model CC545 General Purpose Power Supply Accessory Kit provides almost everything one needs to put their bench power supply to work. The kit includes 3 high-capacity test leads with retractile sleeve plugs. Rated at 600 V CAT II and 36 Amps, the leads provide safe connection to either standard or sheathed jacks while its silicone jacket wire stays flexible under all conditions.
For day-to-day connections, included are 4/6mm spade lug adapters along with 4mm banana plug adapters. Unique to the kit are 3 extra-large alligator clips which offer a wide range of connection capabilities. Fully insulated 1,000V CAT III or 600V CAT IV, the clips are capable of attaching to leads as small as 0.01" or lugs to a diameter of 1.25" all while carrying currents up to 36A. All components are supplied in black, red, and green for easy identification.
Also included is a BNC female to double banana plug adapter, a BNC male to double binding post adapter, and a BNC male cable assembly for powering those RF testing applications.
Features:
High Capacity Retractile Sheath Leads
Connection Adapters
Extra-large insulated alligator clips
Black, red & green components
Storage case
Applications:
R&D Laboratories
Production Test Stations
Service & Repair Facilities
Educational Test Benches