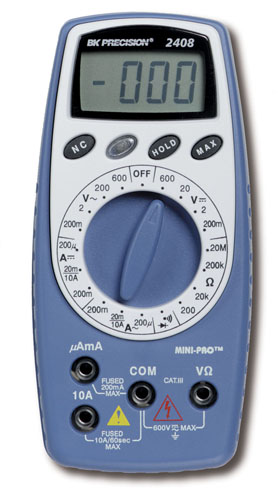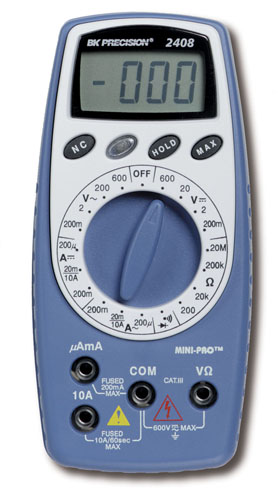 模型 2408
Mini-Pro Digital Multimeter, w/Non-Contact Voltage Tester
Price: $58 / 1 yr Warranty
Discontinued
Jun 27, 2023
概述
Discontinued
The 2408 has been replaced by the: 2703C
The Mini-Pro® multimeters are a professional quality multimeter at low cost. Three new meters with a price point that will put them in every toolbox and field service kit. The unique design fits easily in the palm of your hand and CE approval ensures safe operation. Manual and auto ranging models offer the basic functionality needed to do 90% of most required testing.
These meters are the best value for any hobbies. No home should be without one!
DC/AC voltage to 600V
DC/AC current to 10A
Resistance to 20M
Diode test
Low battery indicator
CE approved
楷模
| Product | Display Count | Ranging | Correction Factor | Interface | MSRP |
| --- | --- | --- | --- | --- | --- |
配件

Mini-Pro DMM Carrying Case
Made in the U.S.A.
Light weight, durable Cordura nylon
Protects your instruments
Room to hold your test leads
Approximate Internal Dimensions: 3.75 x 1.5 x 6.75" (95 x 38 x 171mm)

AC/DC Clamp Accessory for DMMs
Converts any DMM to a current clamp
Measures current without disconnecting circuit under test
Measures to 400A DC/AC
Outputs 1mV per Amp, operates on 2V range of any DMM
CP 3 Manual

Red and Black CAT III (IV) 1000V (600V) Test Leads
Right-angled sheathed banana replacement 10A test leads for digital multimeters.