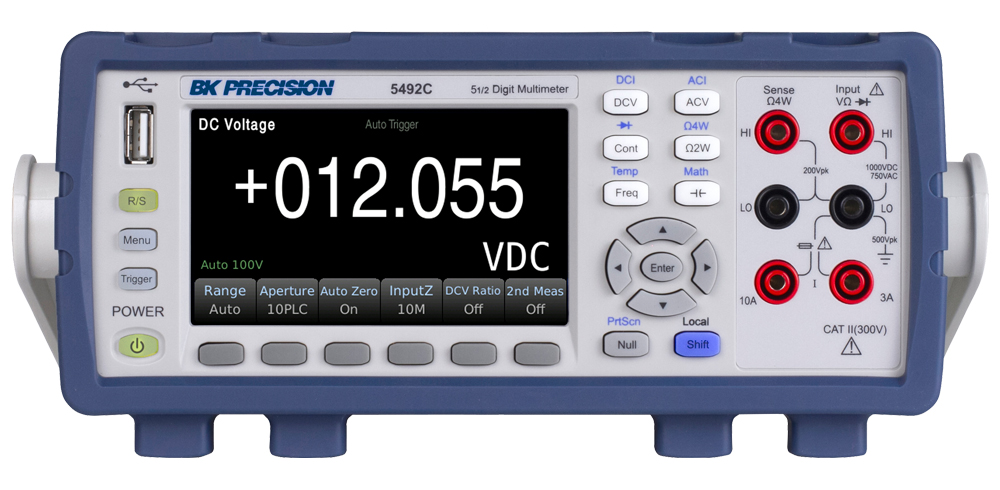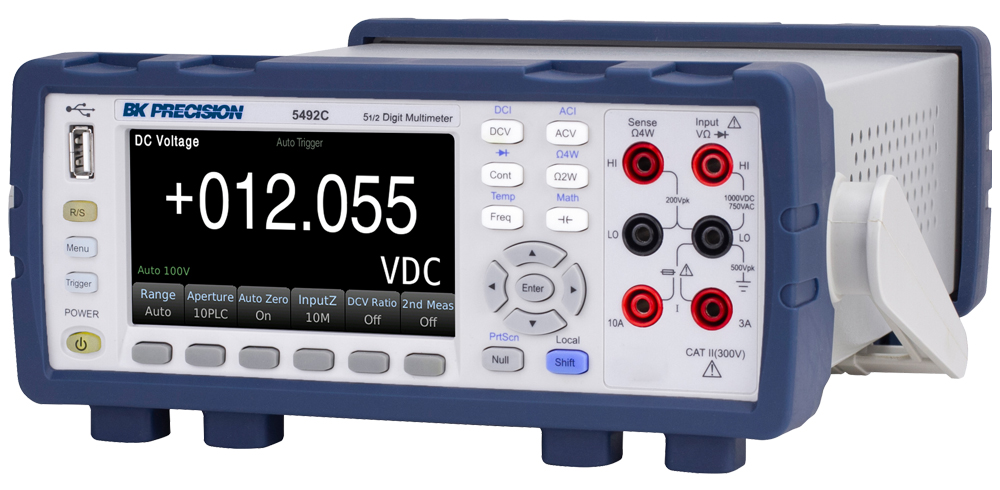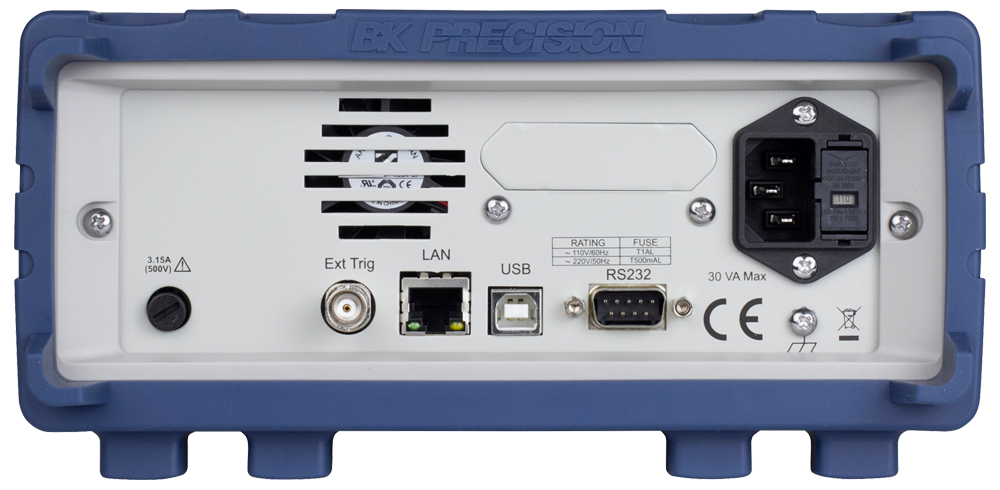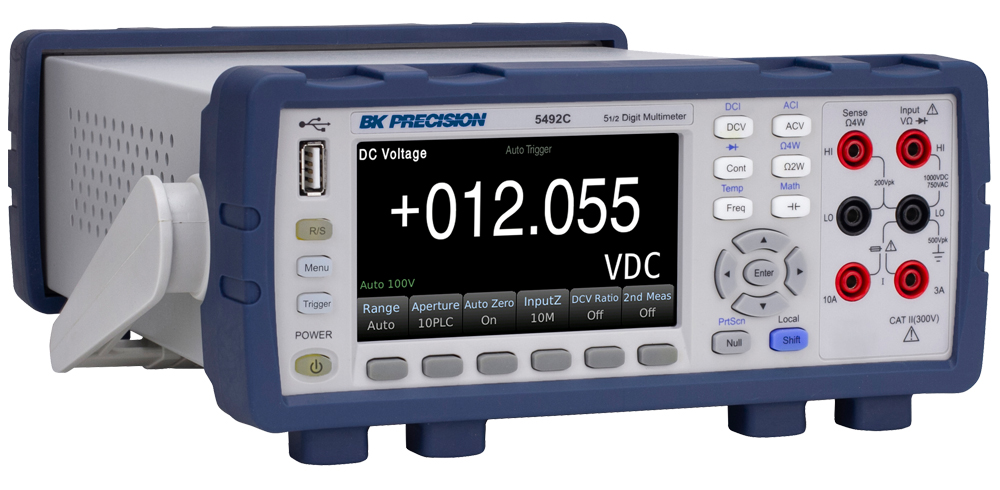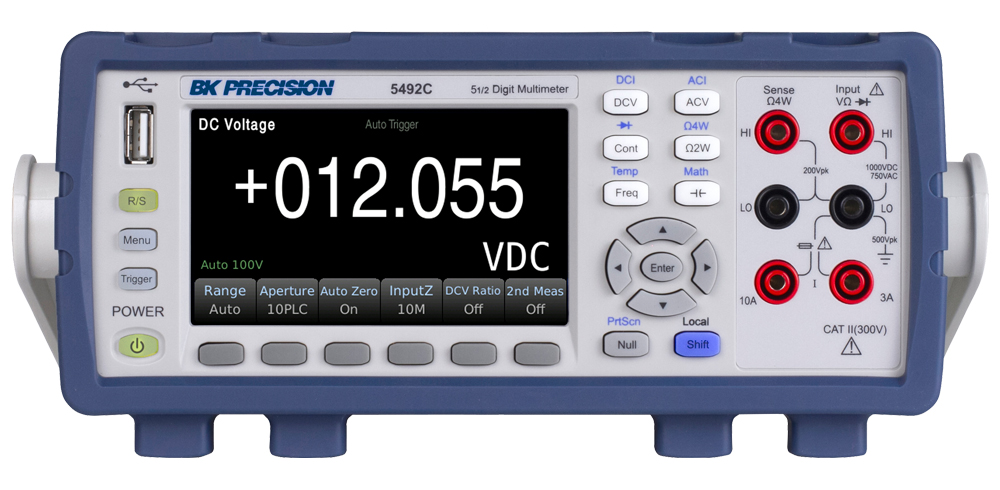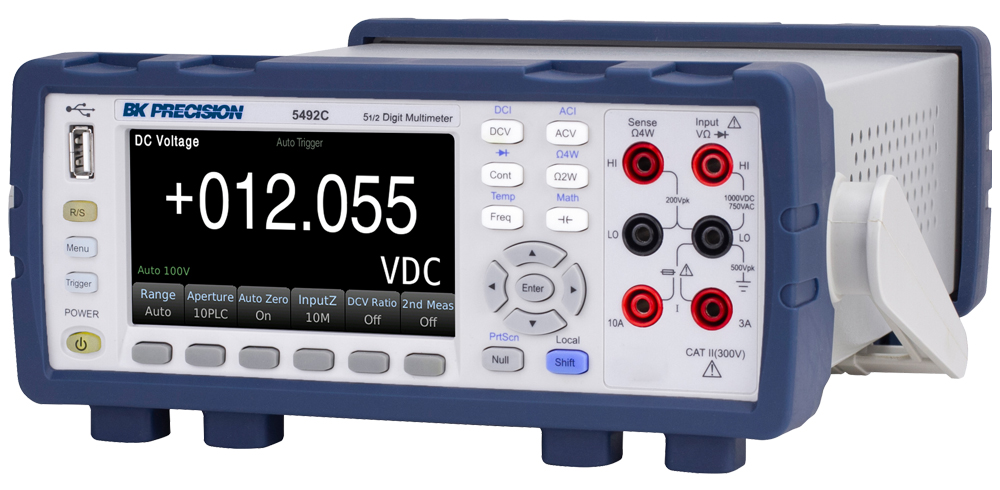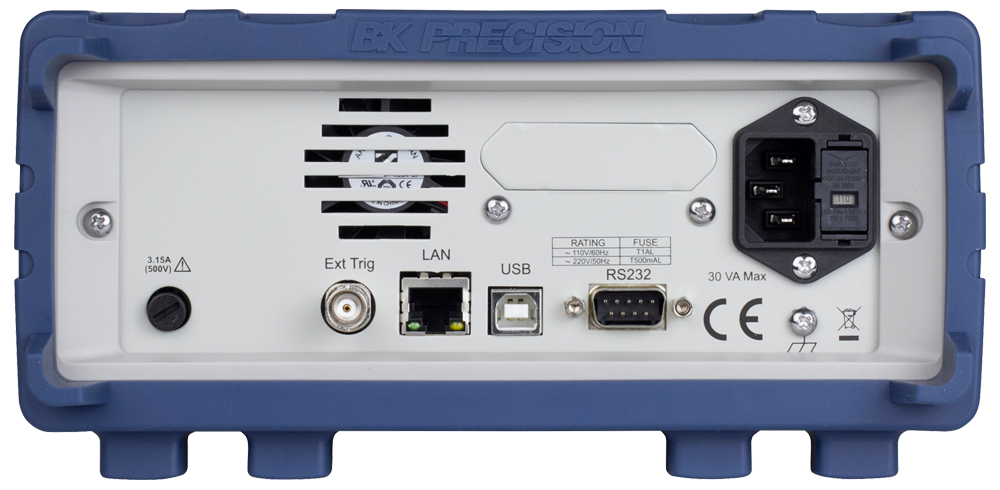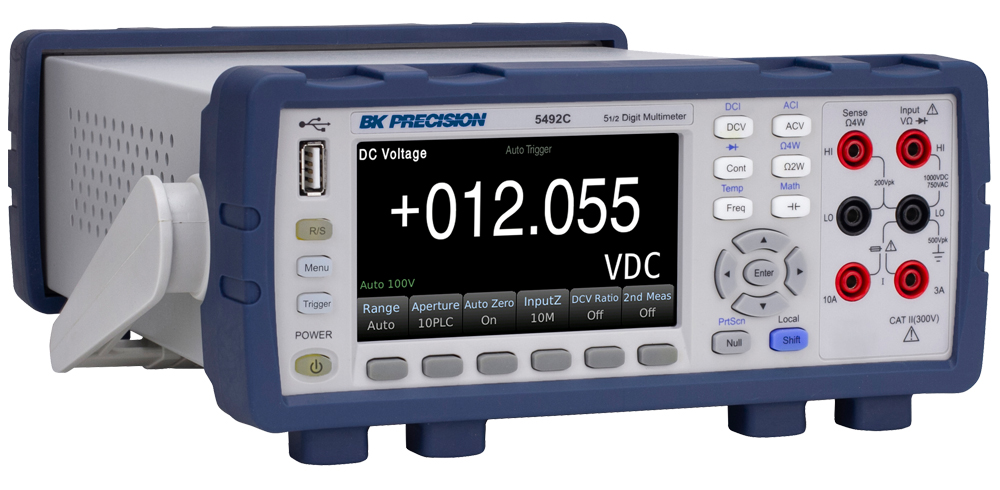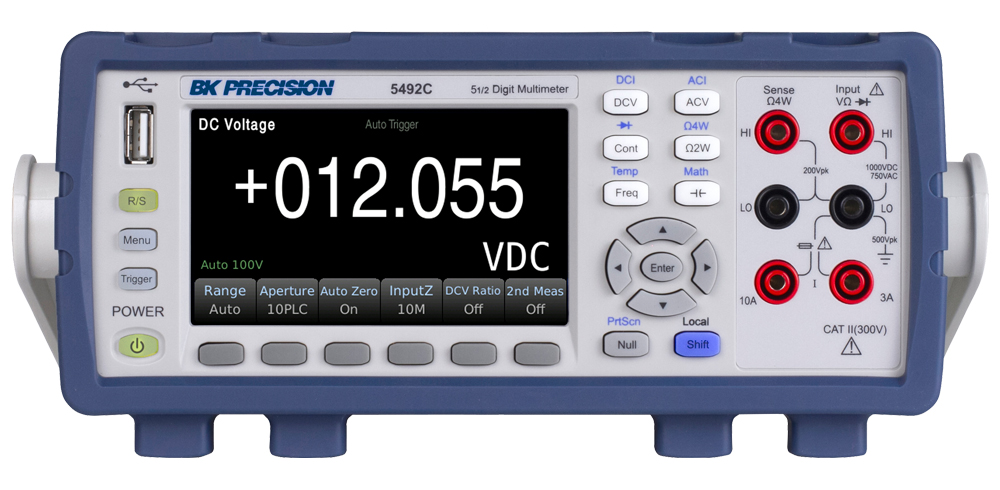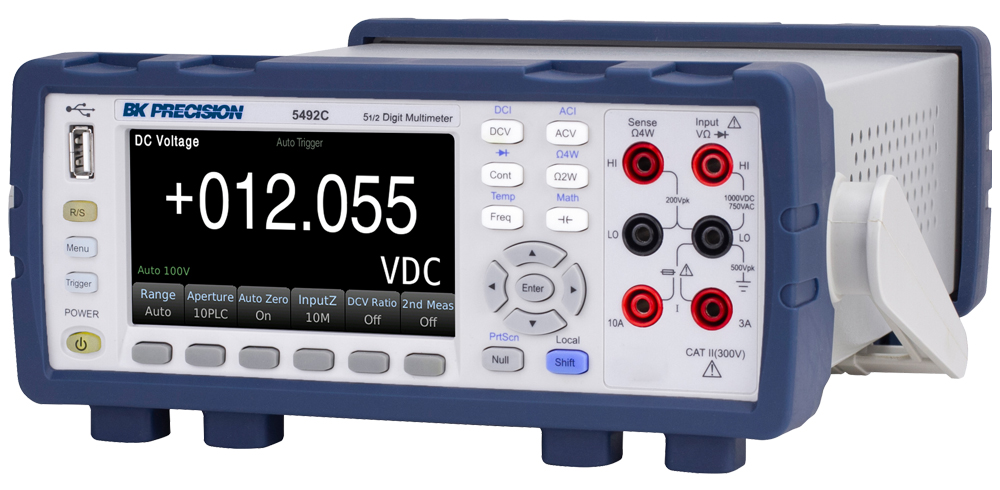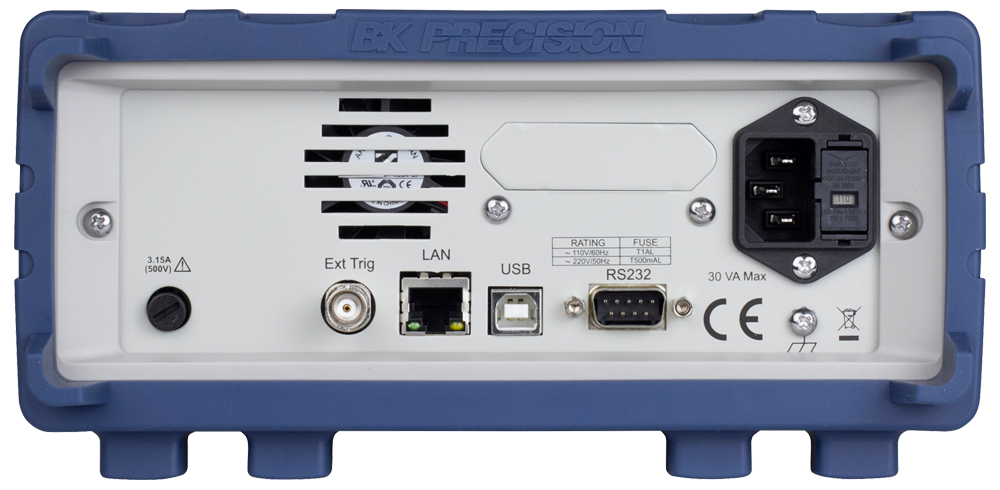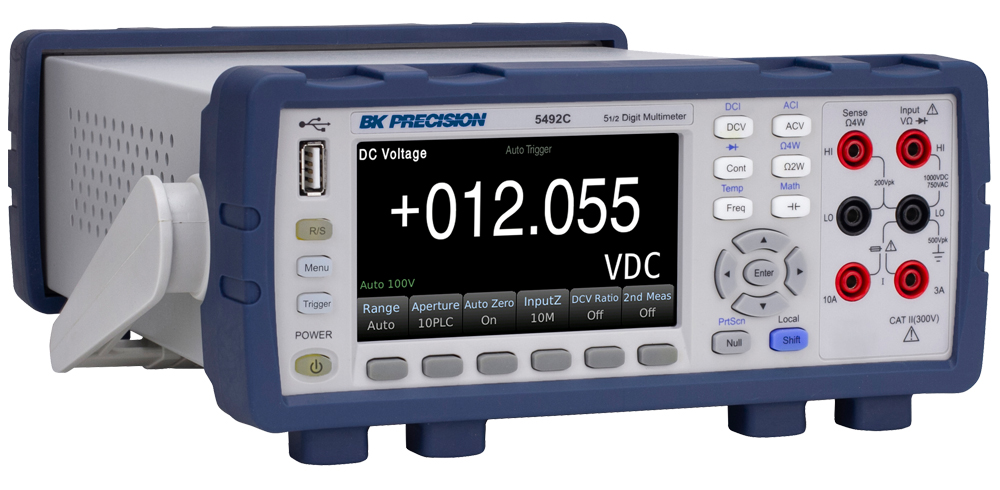 模型 5492C
5490C Series
5 1/2 Bench Digital Multimeter
Price: $875 / 3 yr Warranty
概述
The 5490C Series 5½ and 6½-digit bench multimeters are designed for accuracy, repeatability and ease-of-use. A wide measurement range with speeds up to 1000 readings per second, and a basic DCV accuracy up to 35 ppm deliver stable measurement results quickly and accurately. These general purpose meters are well suited for demanding engineering, production and service applications.
The intuitive 4.3-inch LCD offers a variety of measurement display modes including numeric, bar meter, trend chart, and histogram. The built-in math functions, statistics display, and dual measurement capabilities offer convenient ways to capture and analyze measurement data.
12 measurement functions: DCV, ACV, DCI, ACI, 2 and 4-wire resistance, capacitance, frequency, diode, temperature, continuity test, DCV ratio
High-contrast 4.3-inch full color LCD
Measurement speed up to 1000 readings/s
DCV basic accuracy up to 35 ppm (0.0035%)
Histogram, bar graph, trend chart, and numeric display options
Display Min, Max, Peak-to-Peak, Average, Standard Deviation statistics simultaneously
Null, dB, dBm, %, mx+b, and run/stop math functions
AC frequency measurements to 1MHz
Internal storage buffer for up to 10,000 readings
2 and 4-wire resistance measurements down to 10 Ω
Dual measurement display
Rear input terminals for rack use (6 ½-digit model only)
Standard USB (USBTMC-compliant), LAN, and RS232 interfaces, supporting SCPI commands. GPIB option
Front panel USB host port to export measurements, screen captures and save/recall settings
LabVIEWTM driver and operating software for remote instrument control, measurement monitoring, and data logging included
楷模
Documents
文檔
---
軟件
| 描述 | 版本 | 下載 |
| --- | --- | --- |
| Operating Software (No Run-Time) | 1.0.1 | |
| Operating Software | 1.0.1 | |
| LabVIEW 2020 Driver | 1.0.0 | |
| USBTMC Driver Installation Note | 1.0 | |
配件

High Performance Bench DMM Accessory Kit
This kit of accessories was assembled to facilitate requirements by high-performance bench digital multimeters (DMM's) users. All the most popular accessories in one kit. The kit offers MiniProbe test probe, with spring-loaded tips, for fine probing; MiniPRO Test Clips for small and MiniFlex Test Clips for micro connections; and for those larger test points, both spade lug and banana plug adapters, two pairs of test leads for 4-wire measurements or calibration hookups, an insulated BNC male to sheathed banana jack adapter, and an insulated SMD Tweezer set for surface-mount component testing.
Silicone jacketed test lead wire with UL Listing
MiniProbes w/Spring loaded Stainless Steel Tips
Packaged in Plastic Case
Kit Contains:
(4) Test Lead 4mm Sheathed P-RaP Silicon 0.75,  40": (2) Black, (2) Red
(2) Spring Tip Mini-Probe-4mm Jack: (1) Black, (1) Red
(1) Insulated BNC male Adapt-4mm Safety Jacks
(2) Adapter 4mm Banana Plug to Jack: (1) Black, (1) Red
(2) Mini Flex Clip-4mm Jack-Silicon 0.40, 10 cm: (1) Black, (1) Red
(2) Adapter 6mm Spade 4mm-Jack: (1) Black, (1) Red
(2) Lead minipro-J-PVC 0.40, 10 cm: (1) Black, (1) Red
(1) Tweezer Test Lead Set- 4mm P, w/PVC pouch
Specifications
| | |
| --- | --- |
| Temperature | -20 to +80 ºC |
| RoHS (2002/95/EC) | Compliant |

Rack Mount Kit
19 Inch rack mount kit for one or two half-rack B&K Precision meters and instruments. Includes only front-end hardware and is not intended to be a load-bearing piece of hardware. To support the weight of the equipment, please contact your rack manufacturer for specific supporting hardware.