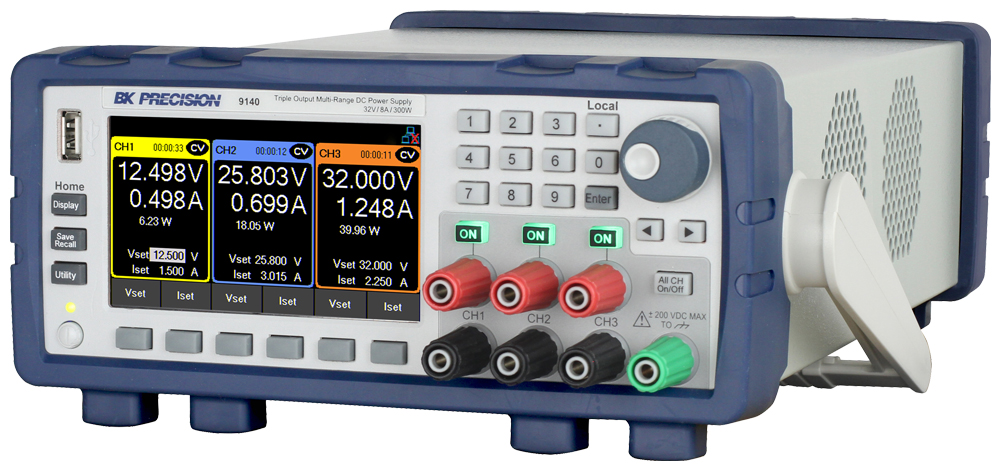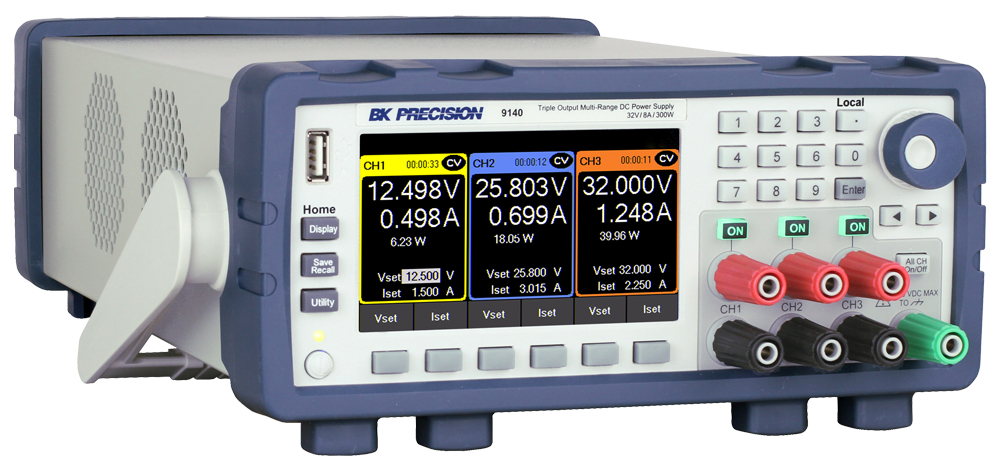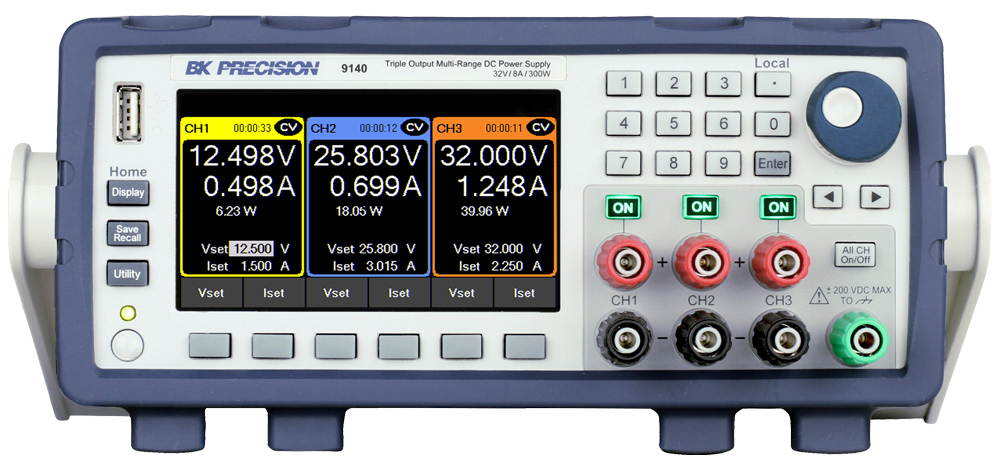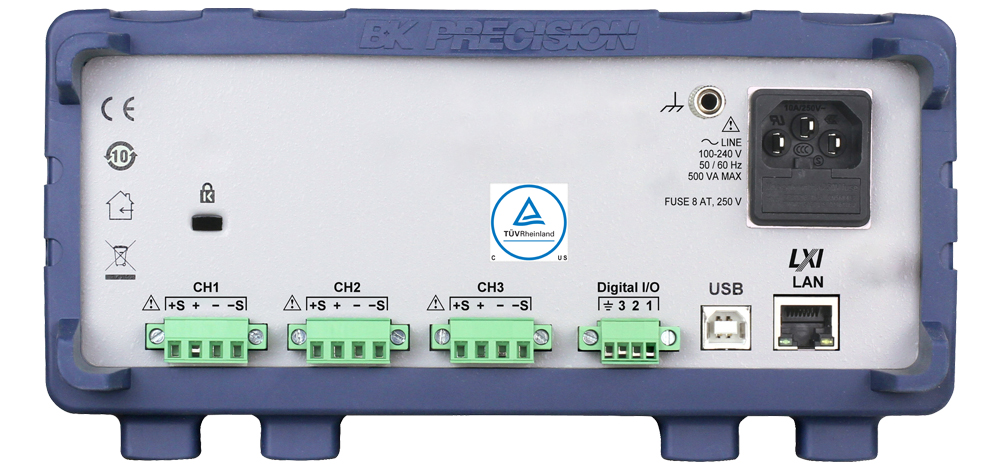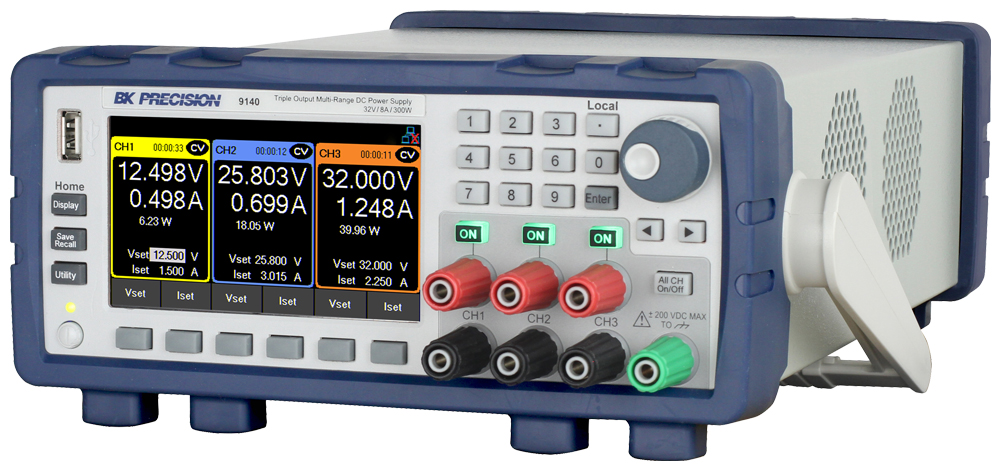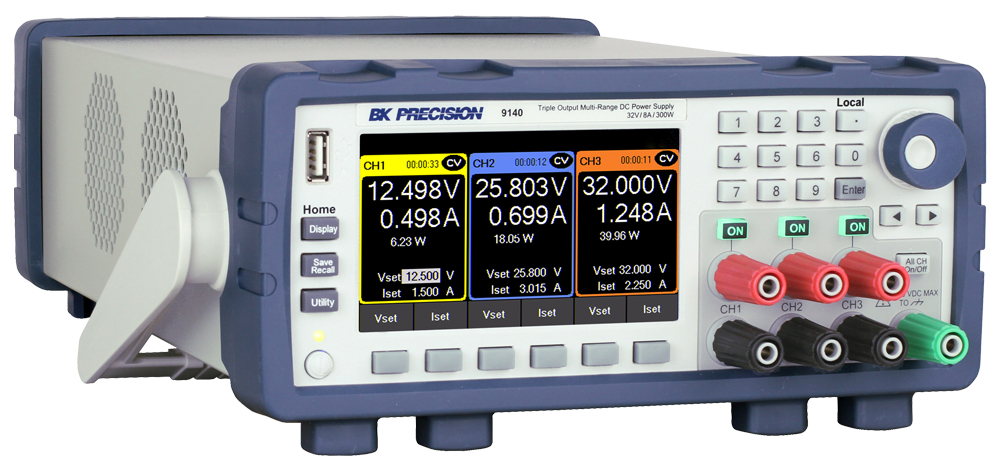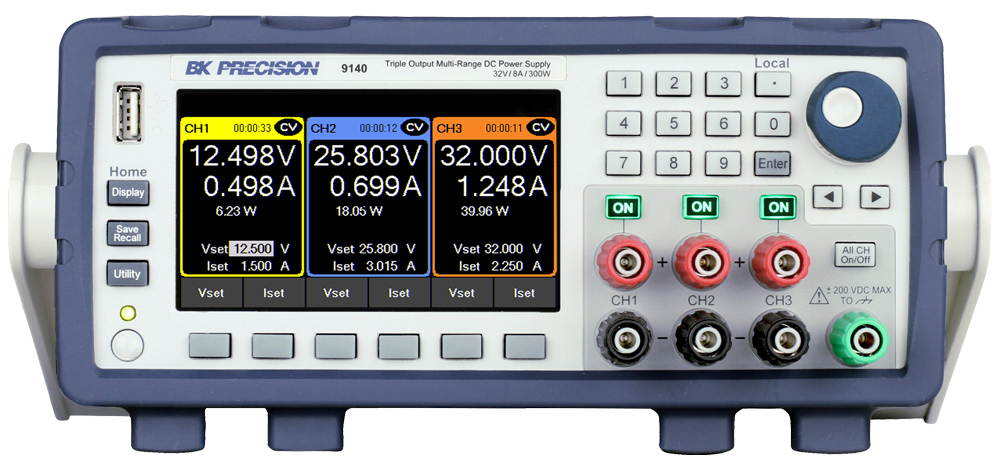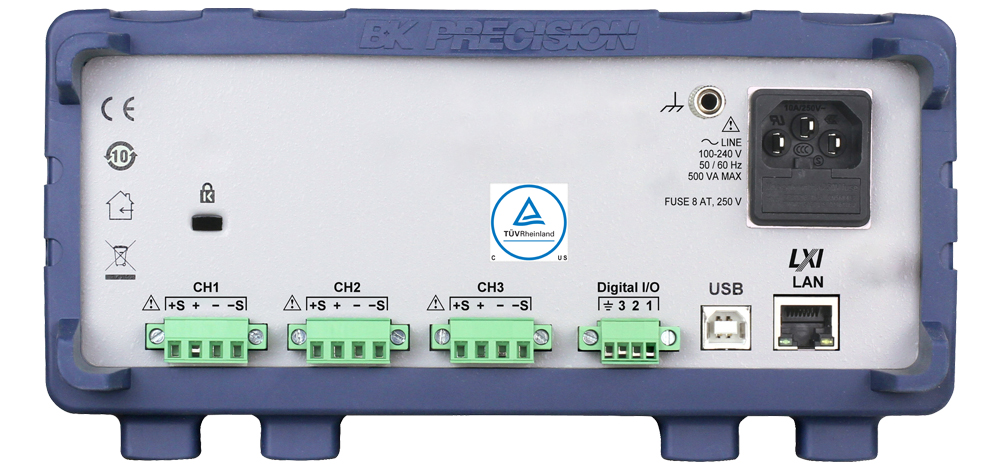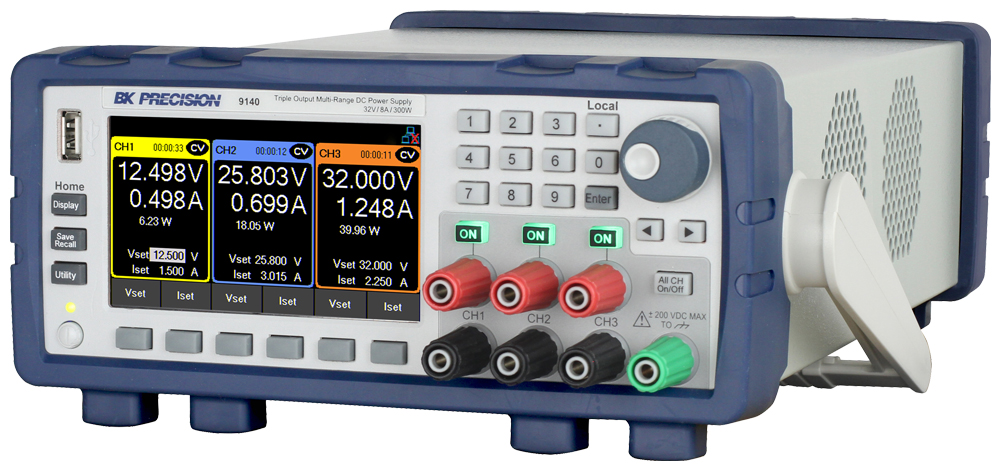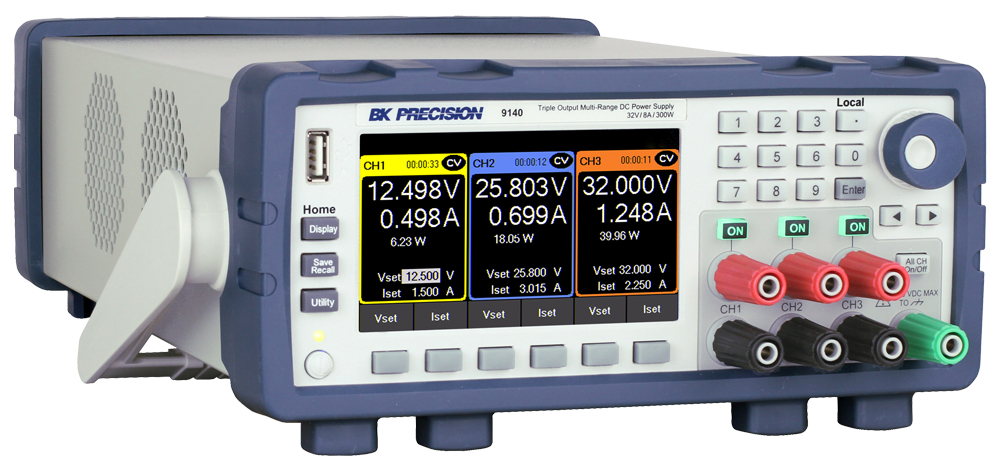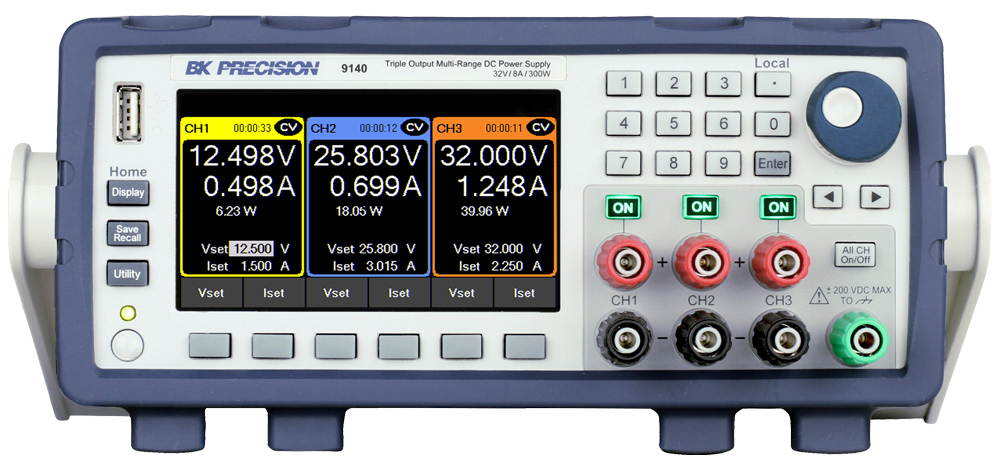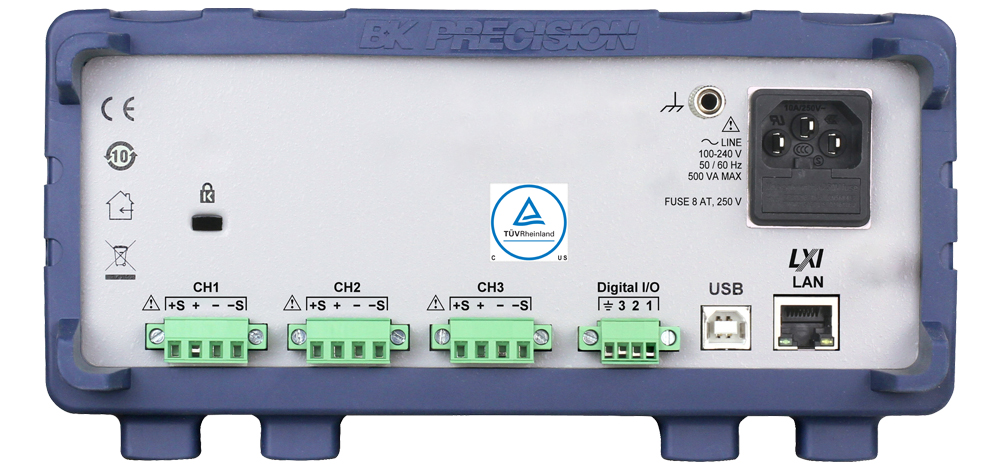 Modelo 9140
9140 Series
Triple Output Multi-Range DC Power Supply 32V / 8A / 300W
Price: $1940 / 3 yr Warranty
No distributors seem to have what you're looking for in stock. You can try searching again with a different part number or call us direct for a quote. (714) 921-9095. If applicable, download the Request Quote form for the corresponding product.
Visión general
The 9140 Series triple output multi-range DC power supplies combine industry-leading power density and performance with an extensive set of features in a compact 2U form factor. Three isolated output channels each produce 100 W of clean power with low ripple and noise characteristics. Combine channels for up to 300 W total output power.
Powerful list mode programming enables users to set up and execute complex test sequences directly from the front panel. Multiple outputs, USB data logging, and comprehensive protection features make these power supplies suitable for a wide range of benchtop or test system applications.
Three independent, floating output channels for up to 100 W per channel or 300 W total
High power density, compact 2U half-rack form factor
Multi-ranging operation
Low output ripple and noise down to 1 mVrms
Combine outputs to increase voltage up to 180 V or 24 A (depending on model)
Advanced and easy to use list mode programming
Channel coupling, tracking, configurable delays
Direct data logging to USB flash drive
Thermostatically-controlled fans for quiet operation
Adjustable voltage and current slew rates
OVP, OCP, OTP, and key-lock protections
USB (USBTMC-compliant) and LXI compliant LAN standard, GPIB option
LabVIEWTM, IVI-C, and IVI.NET drivers provided
Operating software available
cTUVus certification mark
Modelos
Documents
Documentos
There are no documents available for 9140
---
Software
| Descripción | Versión | Descargar |
| --- | --- | --- |
| Battery Test Software | 1.7.0 | |
| Battery Test Software w/ LabVIEW 2022 Run-Time Engine | 1.7.0 | |
| USBTMC Driver Installation Note | 1.0 | |
| LabVIEW 2022 Driver | 2.0.0 | |
| IVI.NET 32-bit and 64-bit drivers | 2.0.0 | |
| IVI-C 32-bit and 64-bit drivers | 2.0.0 | |
| USB Virtual COM Drivers (Supports Windows 7/8/8.1/10) | V6.7.5 | |
| Operating Software (Full) | 1.1.0 | |
| Operating Software (No Run-Time) | 1.1.0 | |
Accesorios
Additional Resources