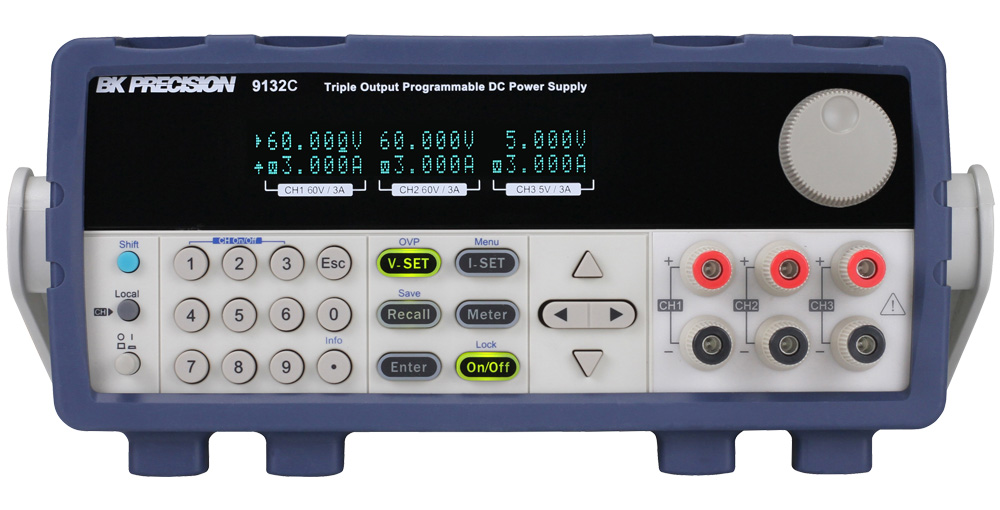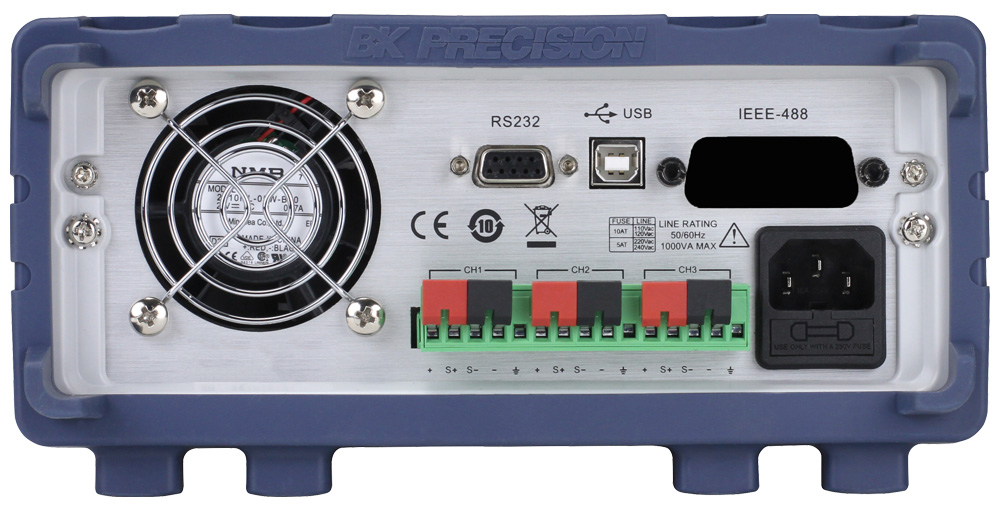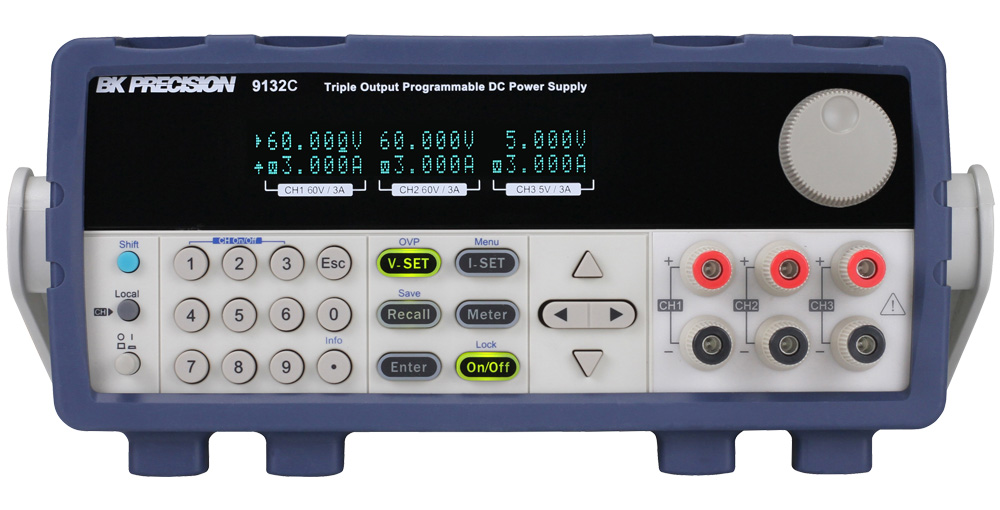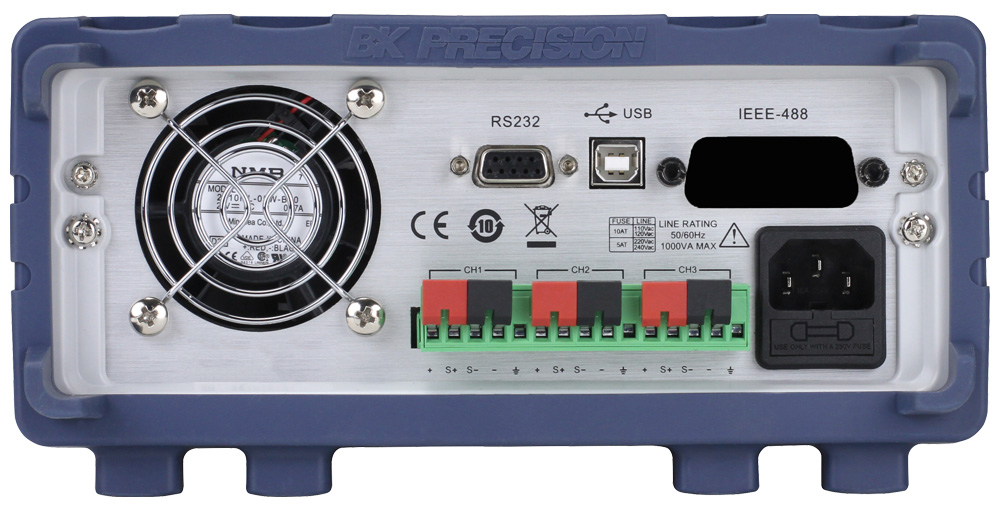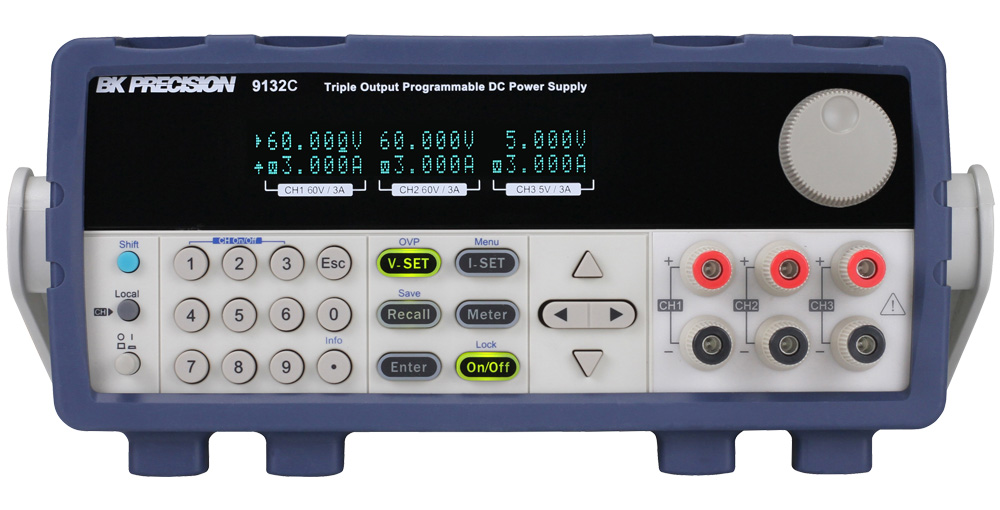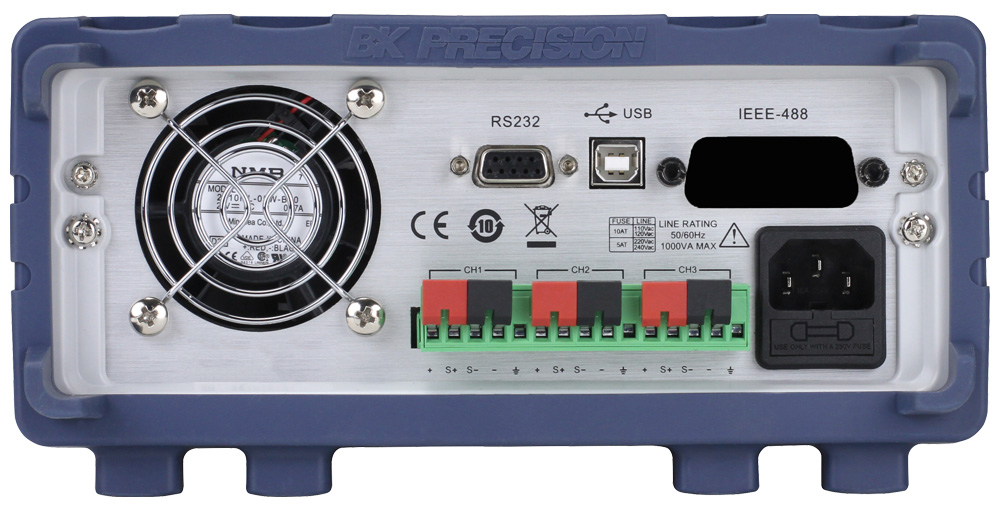 Model 9132C
9130C Series
Triple Output Programmable DC Power Supply 0-60V, 0-3A x2, 0-5V, 0-3A x1
Price: $1805 / 3 yr Warranty
Overview
The 9130C Series triple output linear programmable DC power supplies feature isolated outputs that can be adjusted independently or combined in series or parallel to output higher voltage or current. Additionally, these supplies can operate in tracking mode with user-configurable ratios between channels. The front panel keys and rotary knob with convenient cursors let users quickly set voltage and current values.
For remote control, the standard USB (USBTMC-compliant) and RS232 interfaces supporting SCPI commands can be used to remotely control the power supplies via a PC.
Three independent and electrically isolated outputs
Displays voltage and current settings for all three channels simultaneously
Low noise, linear regulation
High programming and readback resolution of 1 mV / 1 mA
Series and parallel modes combine channels to increase the output voltage or current
Tracking mode allows users to set up channels to maintain a programmed ratio
Fully programmable channels with Output On/Off control
Store and recall up to 36 instrument settings
Remote sense
Timer-controlled output function adjustable from 0.1 – 99999.9 s
Standard USB (USBTMC-compliant) and RS232 interfaces supporting SCPI commands for remote control
NI certified LabVIEW driver and softpanel for remote control, test sequence generation, and datalogging available
Overvoltage (OVP) and overtemperature (OTP) protection including keylock function
Compact 19" half-rack form factor allows for side-by-side rack mounting of two units 
Models
Documents
Documentation
---
Software
| Description | Version | Download |
| --- | --- | --- |
| LabVIEW 2020 Driver | 1.1.1 | |
| USBTMC Driver Installation Note | 1.0 | |
| Operating Software (Full) | 1.0.0 | |
| Operating Software (no Run-Time) | 1.0.0 | |
| New DC Power Supply Operating Software w/ LabVIEW 2022 Run-Time Engine (Supports Windows® 10 and 11) | V1.0.1 | |
| New DC Power Supply Operating Software (Supports Windows® 10 and 11) | V1.0.1 | |
Accessories

General Purpose Power Supply Accessory Kit
Model CC545 General Purpose Power Supply Accessory Kit provides almost everything one needs to put their bench power supply to work. The kit includes 3 high-capacity test leads with retractile sleeve plugs. Rated at 600 V CAT II and 36 Amps, the leads provide safe connection to either standard or sheathed jacks while its silicone jacket wire stays flexible under all conditions.
For day-to-day connections, included are 4/6mm spade lug adapters along with 4mm banana plug adapters. Unique to the kit are 3 extra-large alligator clips which offer a wide range of connection capabilities. Fully insulated 1,000V CAT III or 600V CAT IV, the clips are capable of attaching to leads as small as 0.01" or lugs to a diameter of 1.25" all while carrying currents up to 36A. All components are supplied in black, red, and green for easy identification.
Also included is a BNC female to double banana plug adapter, a BNC male to double binding post adapter, and a BNC male cable assembly for powering those RF testing applications.
Features:
High Capacity Retractile Sheath Leads
Connection Adapters
Extra-large insulated alligator clips
Black, red & green components
Storage case
Applications:
R&D Laboratories
Production Test Stations
Service & Repair Facilities
Educational Test Benches

Rack mount kit for select models
The IT-E151 is for rack mounting of compatible products in either a side-by-side configuration or single unit configuration where a provided blank is used to fill the empty space. The dimensions for the kit are 5.24" (133mm) by 19" (482.6mm).
Compatible models:
| | |
| --- | --- |
| - 1785B Series | - 8512 |
| - 9120A Series | - 8514 |
| - 9150 Series | - 8518 |
| - 9130B Series | - 8600 |
| - 8542B | - 8601 |
| - 8500/B | - 8602 |
| - 8502/B | - 9801 |
| - 8510/B | - 9200 Series |

30A Hook-up Cable Set
30 Amp test leads that are ideal for bench power supply applications that require clip termination such as battery charging. Note that the spade lug connector will not connect to power supplies with banana only jacks. The power supply must have a threaded binding post.
#10 Spade Lug to Large 3" Battery Clips
Jaws open to 0.75" (19 mm)
30A rating
Black and Red pair
Approximate overall length 30" (0.75m)
Additional Resources