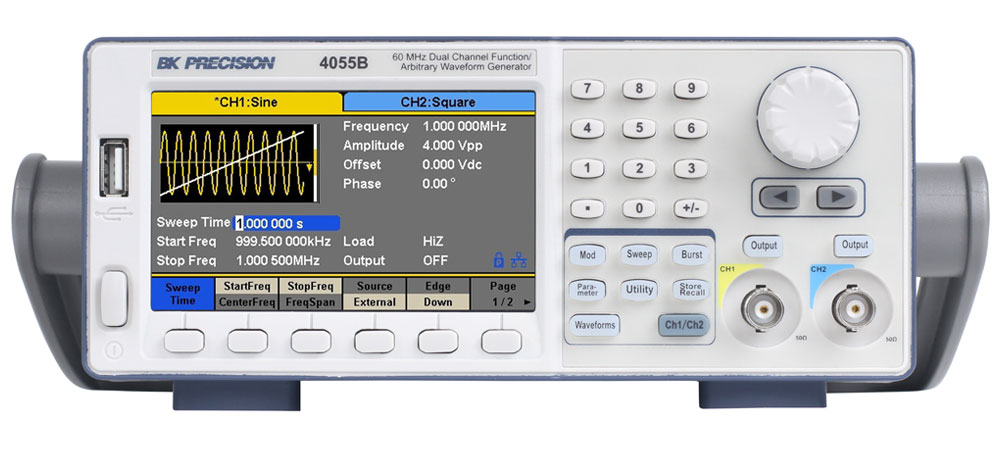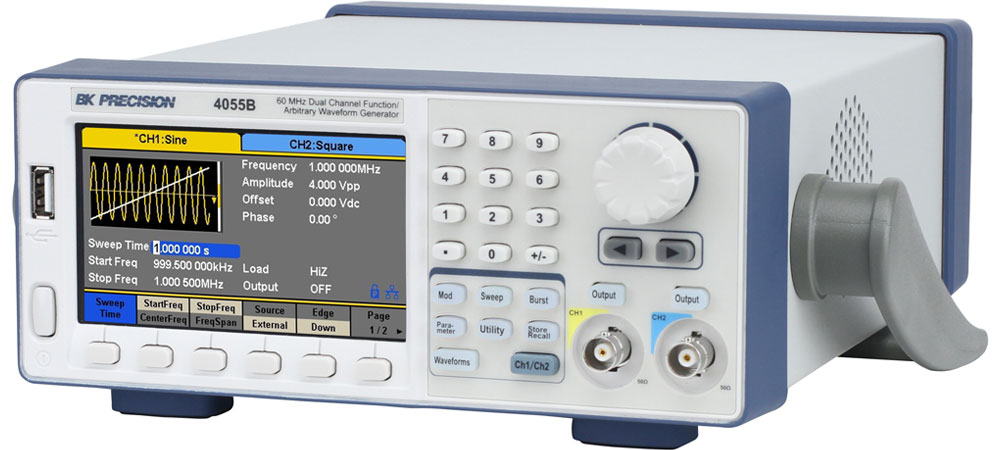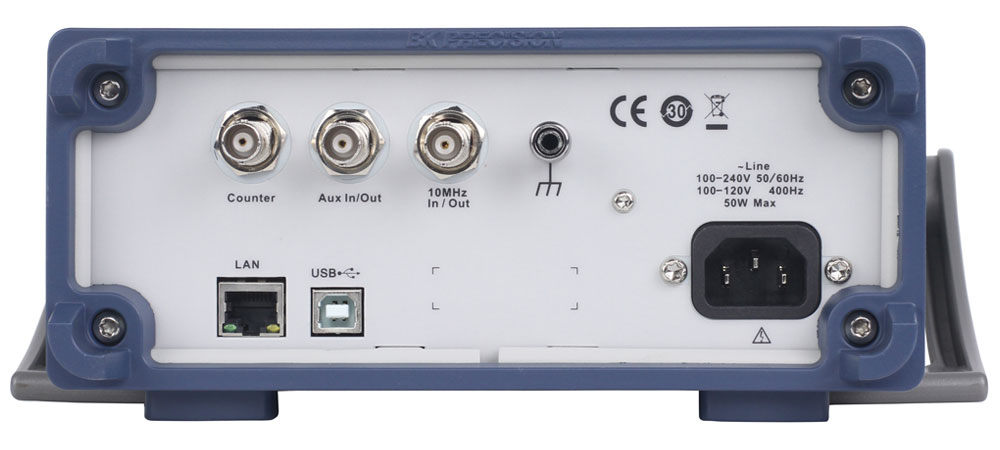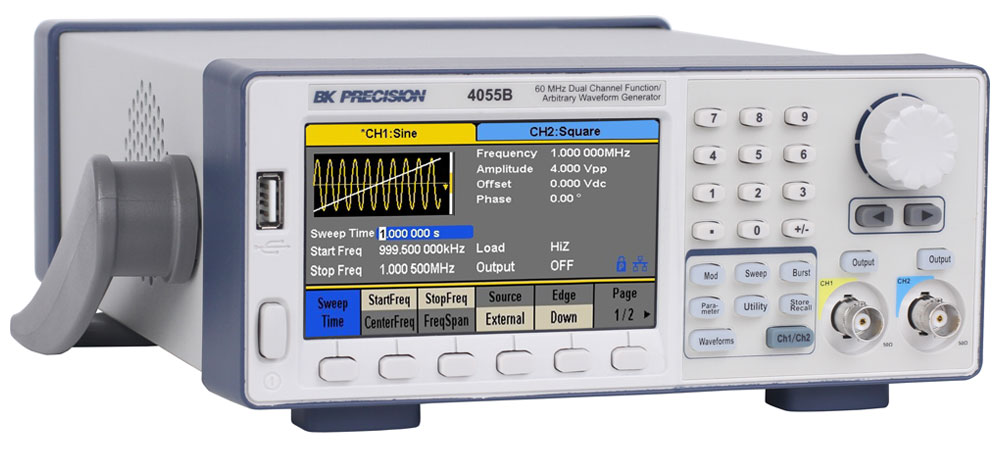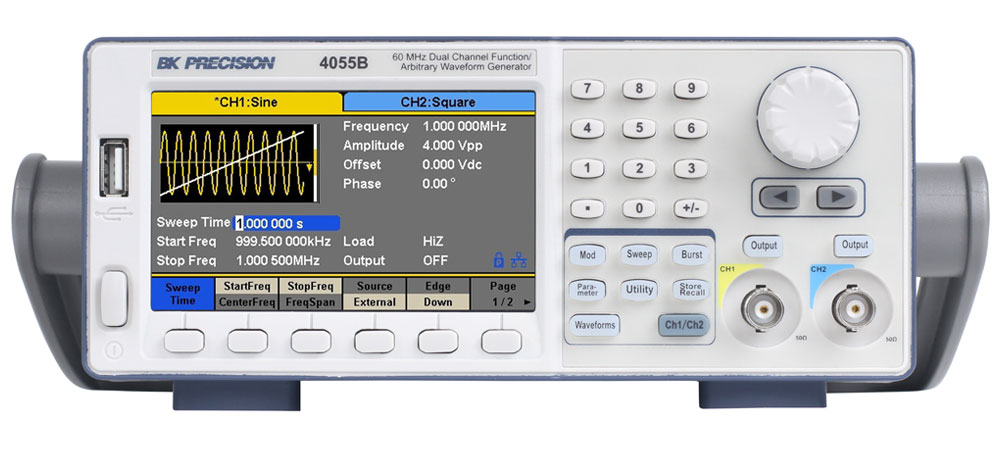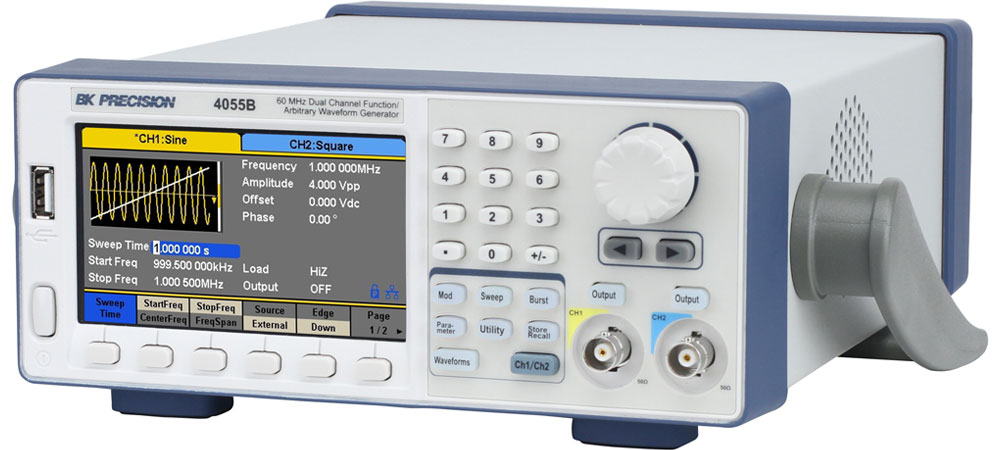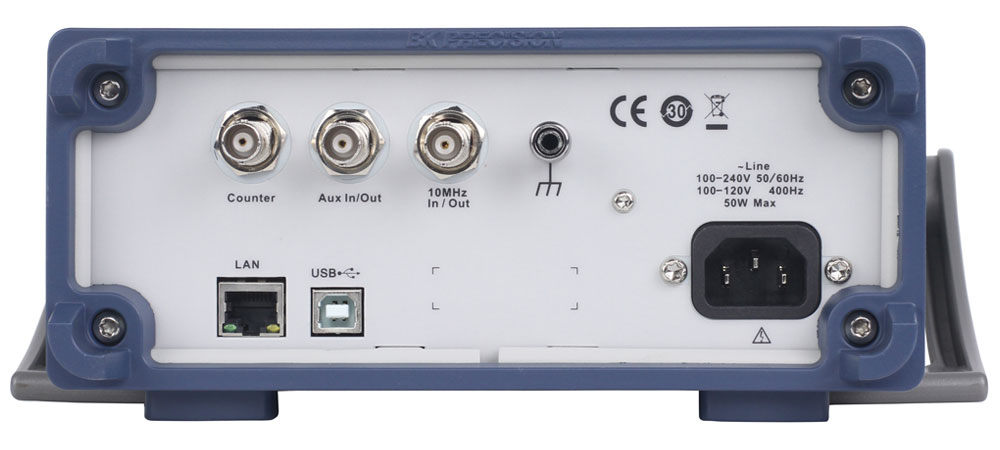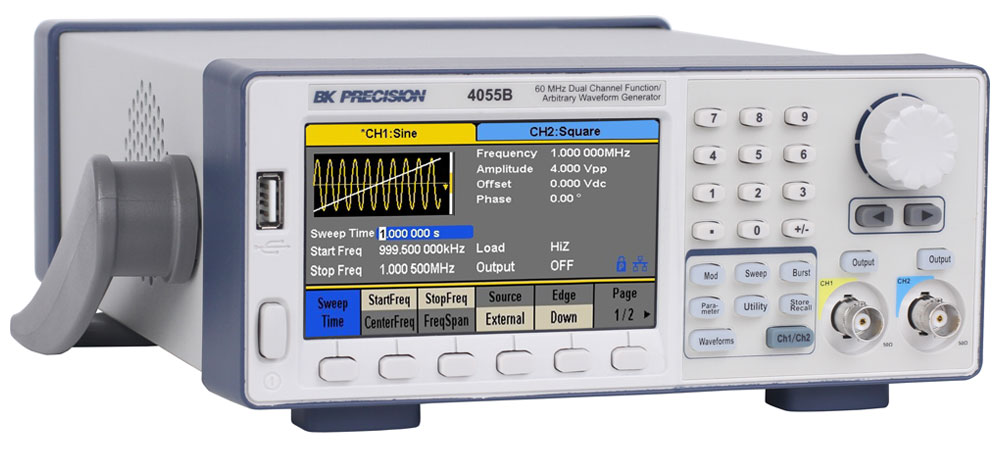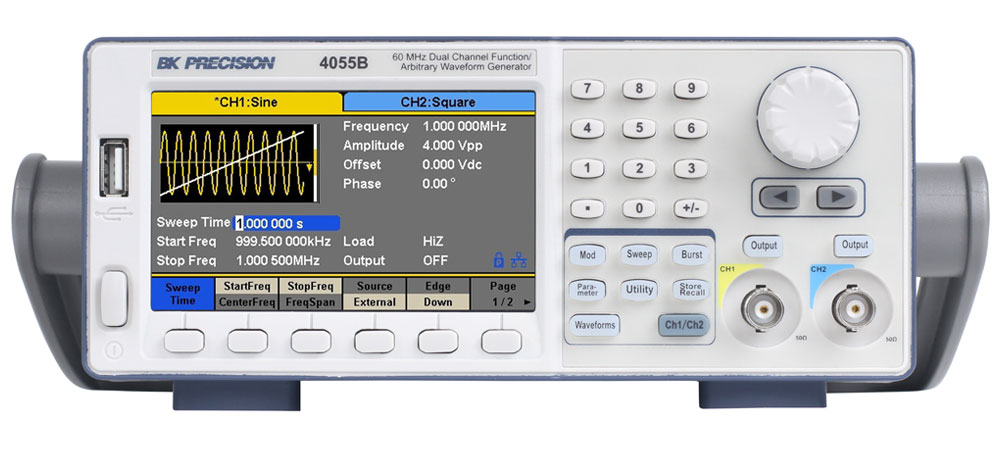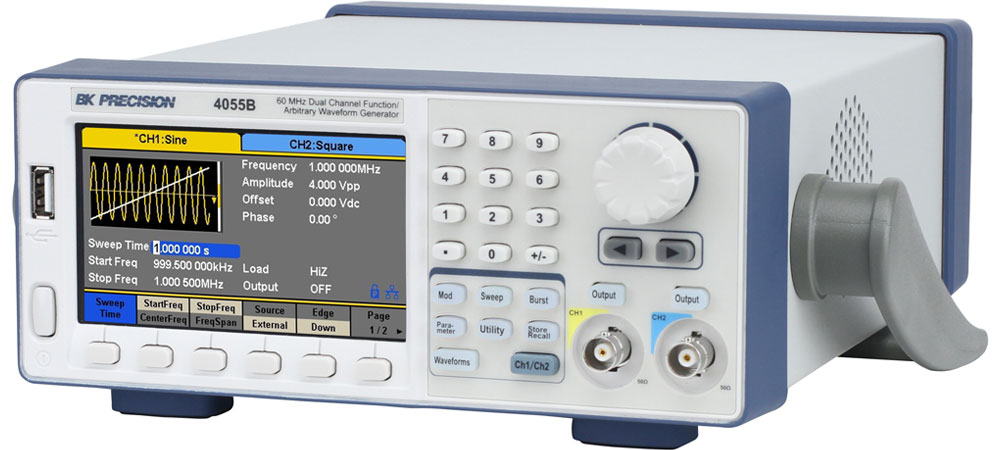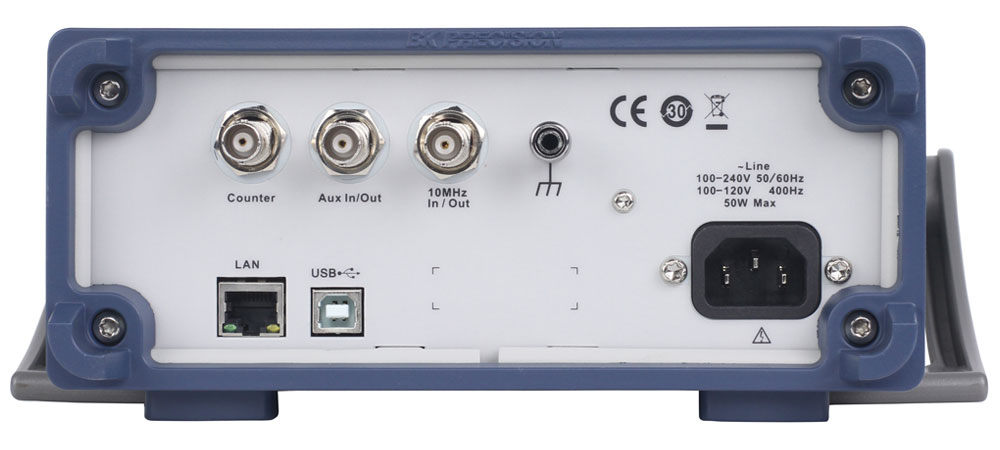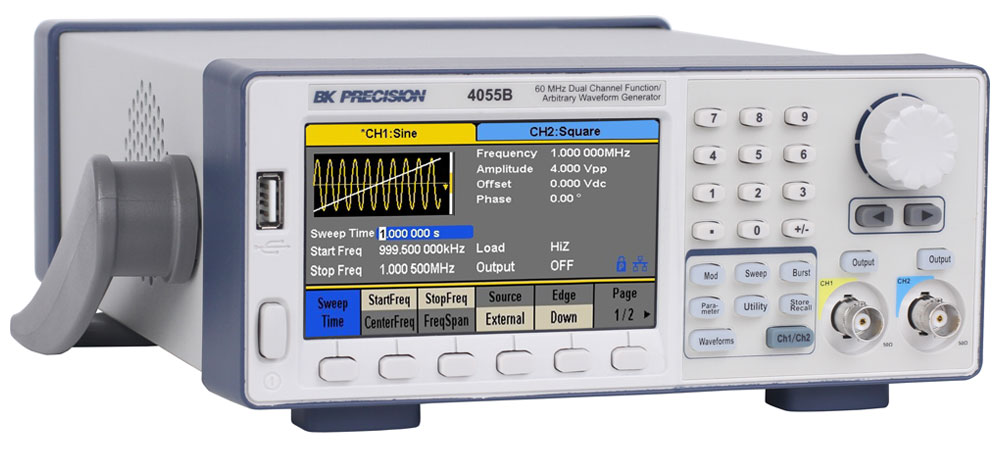 Model 4055B
4050B Series
60 MHz Dual Channel Function/Arbitrary Waveform Generator
Price: $1135 / 3 yr Warranty
Overview
The 4050B Series Dual Channel Function/Arbitrary Waveform Generators are capable of generating stable and precise sine, square, triangle, pulse, and arbitrary waveforms. With an easy-to-read color display and intuitive user interface with numeric keypad, these instruments offer plenty of features including linear/logarithmic sweep, built-in counter, extensive modulation and triggering capabilities, a continuously variable DC offset, and a high performance 14-bit, 150 MSa/s arbitrary waveform generator. CH1 and CH2 outputs can both be varied from 0 to 10 Vpp into 50 ohms (up to 20 Vpp into open circuit).
14-bit, 150 MSa/s, 16k point arbitrary waveform generator
Two independent channels with individual output On/Off buttons
Convenient channel copy, track and combine functions
Synchronize the phase of both channels with the push of a button
Low-jitter square wave generation for simulating reliable clock signals, generating triggers, or validating serial data buses
Large 4.3-inch LCD color display
AM/DSB-AM/ASK/FM/FSK/PM/PSK/PWM modulation functions
Variable DC offset and adjustable duty cycle
Internal/external triggering
Gate and burst mode
196 built-in predefined arbitrary waveforms
Built-in frequency counter
Harmonics generator function
LAN, USB device port (USBTMC-compliant), and front panel USB host port
GPIB connectivity with optional USB-to-GPIB adapter
PC software provided for arbitrary waveform editing
Short circuit output protection
Models
Documents
Documentation
---
Software
| Description | Version | Download |
| --- | --- | --- |
| USBTMC Driver Installation Note | 1.0 | |
| LabVIEW 2020 Drivers | 1.1.0 | |
| Labview 2016 Driver | 1.0.0 | |
| Operating Software (Supports Windows(R) 10) | 1.1.1.36 | |
Accessories

USB-to-GPIB Adapter
The AK40G USB-to-GPIB adapter provides GPIB connectivity through the front USB host port on 4050 & 4060 series generators and some digital storage oscilloscopes. The GPIB and USB connectors conform to IEEE488.2 and USB 2.0 respectively.
Powered through USB host connector
Cable length approximately 56 inches (143cm)
Communication Status LED and Power LED indicators
GPIB interface supports Device mode only (not Controller mode)

BNC Breakout to Alligator Clips
Standard BNC to Alligator clips test leads.
50 ohm impedance
RG58C/u cable
500Vrms voltage rating
40" cable length

Function Generator Test Leads Set
General purpose test probe set that includes BNC to BNC cables, BNC adapters and test clips.