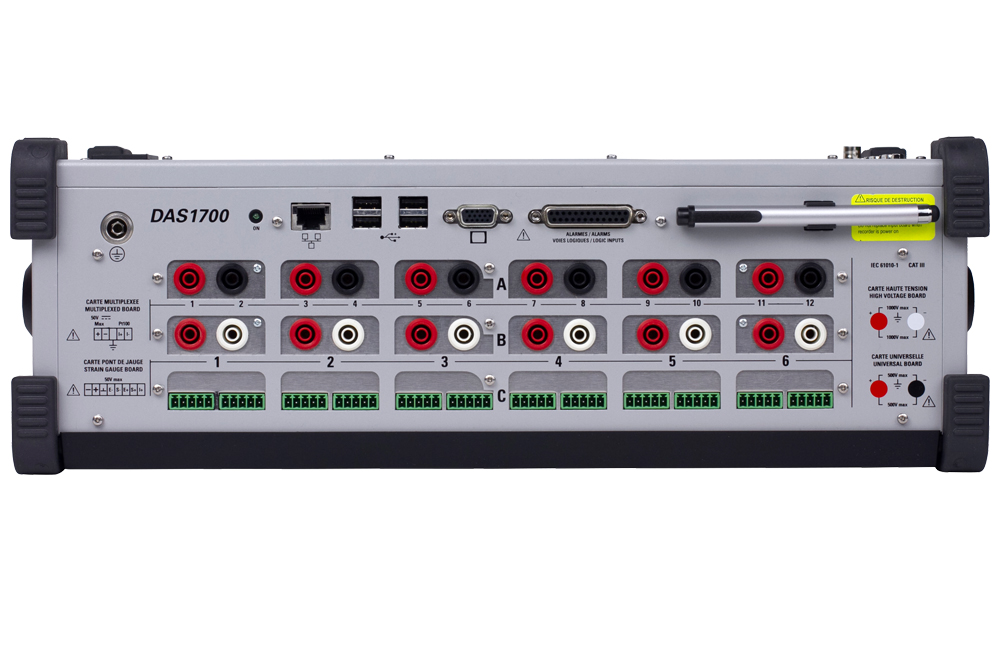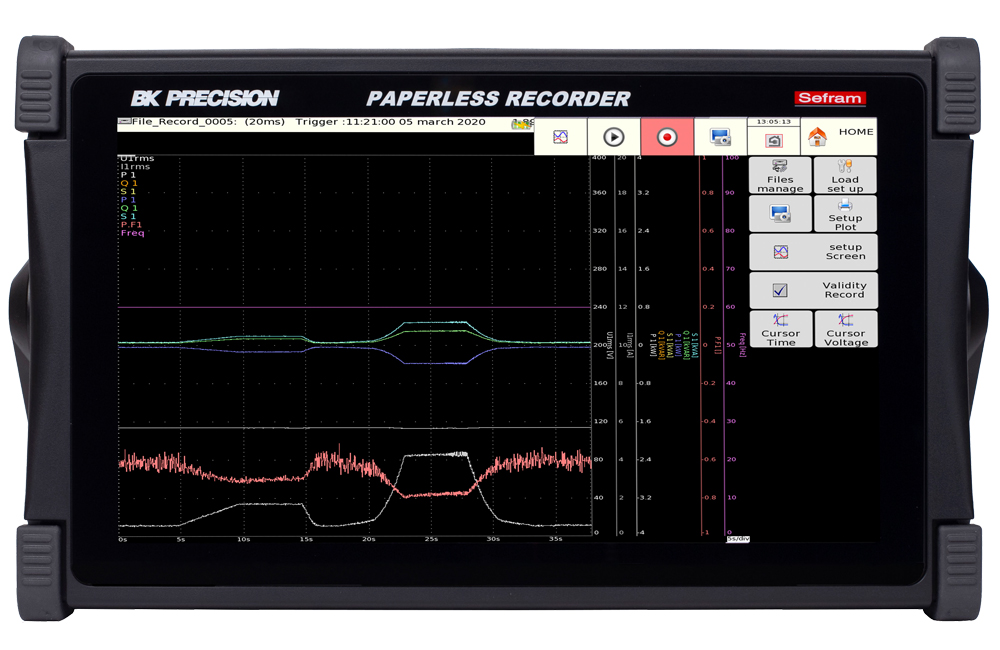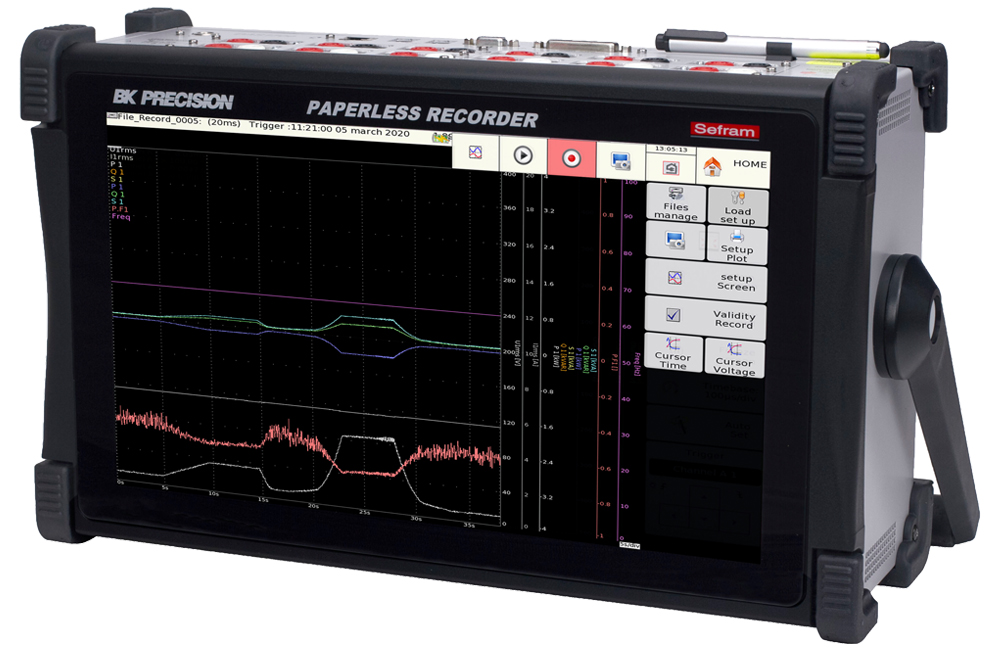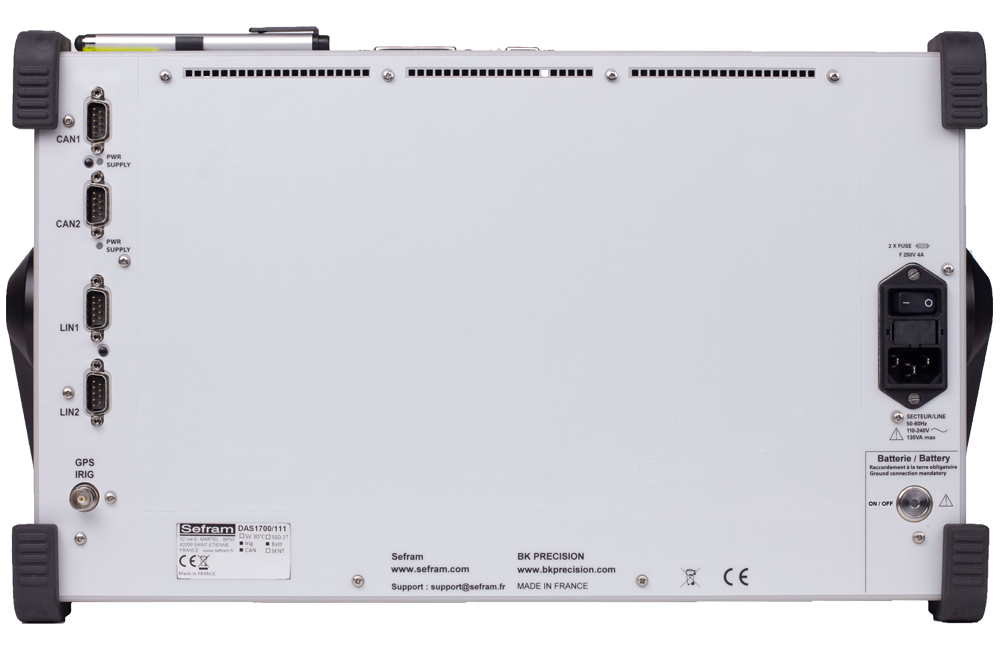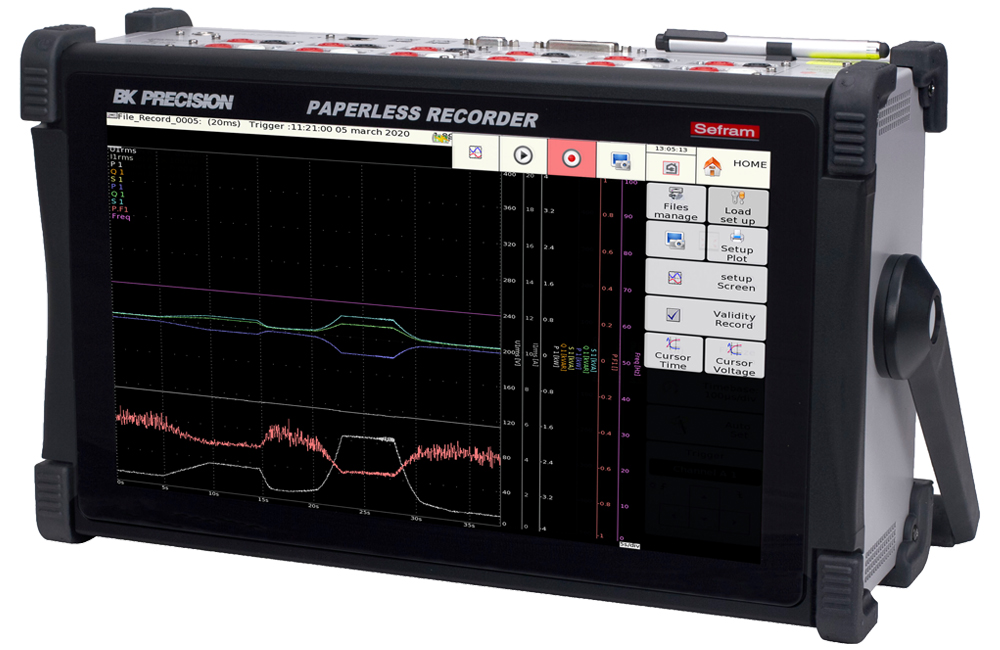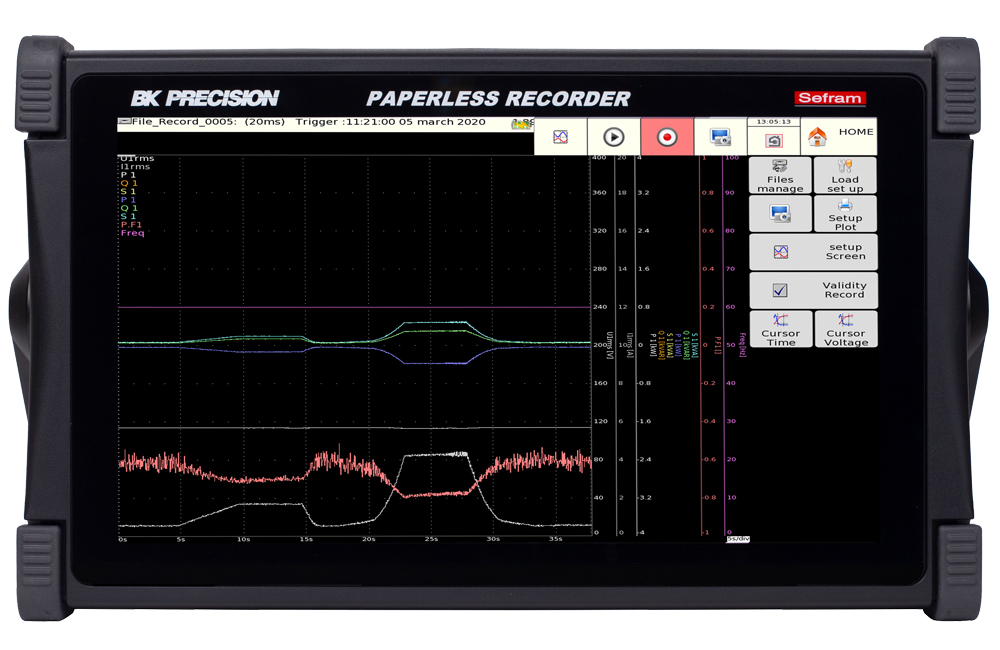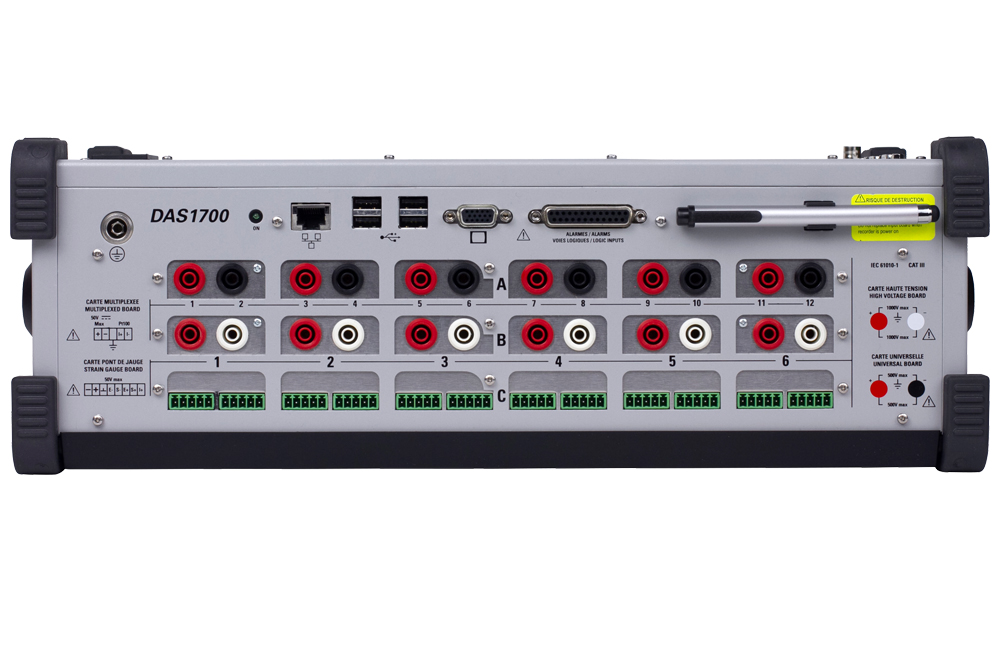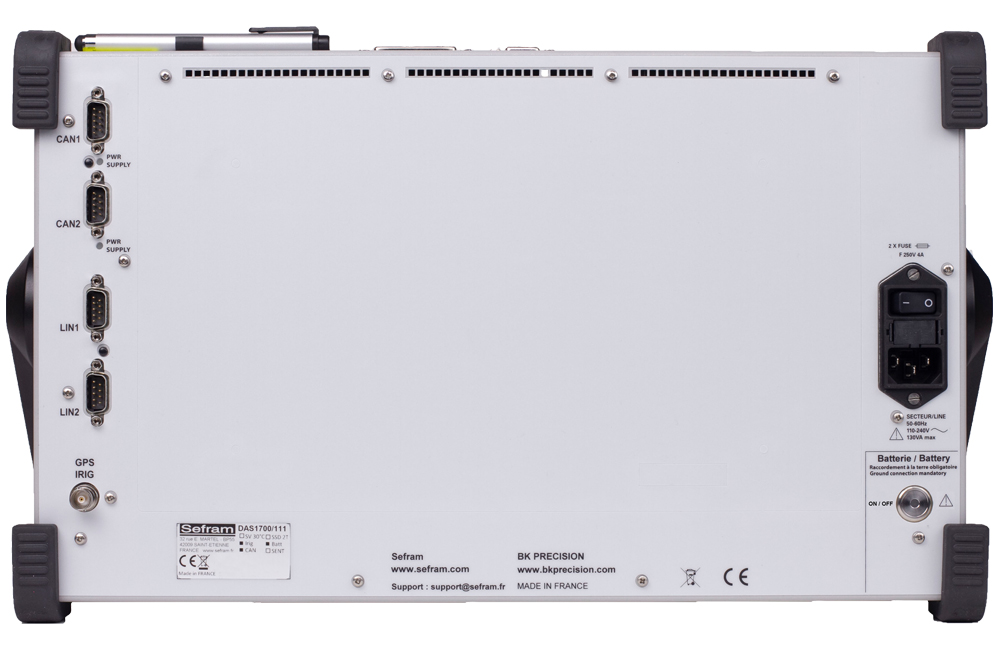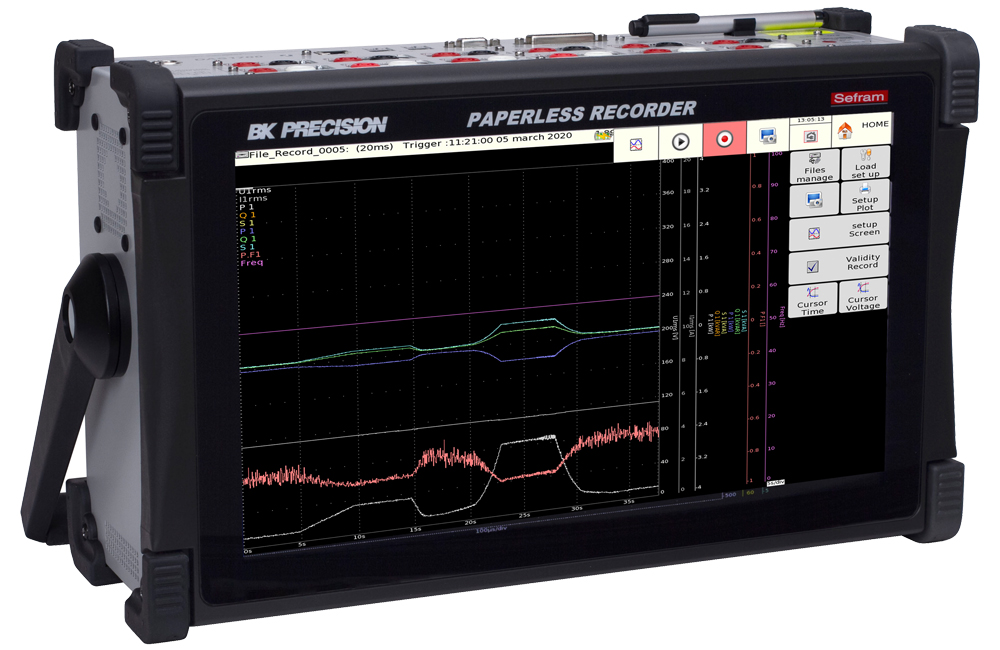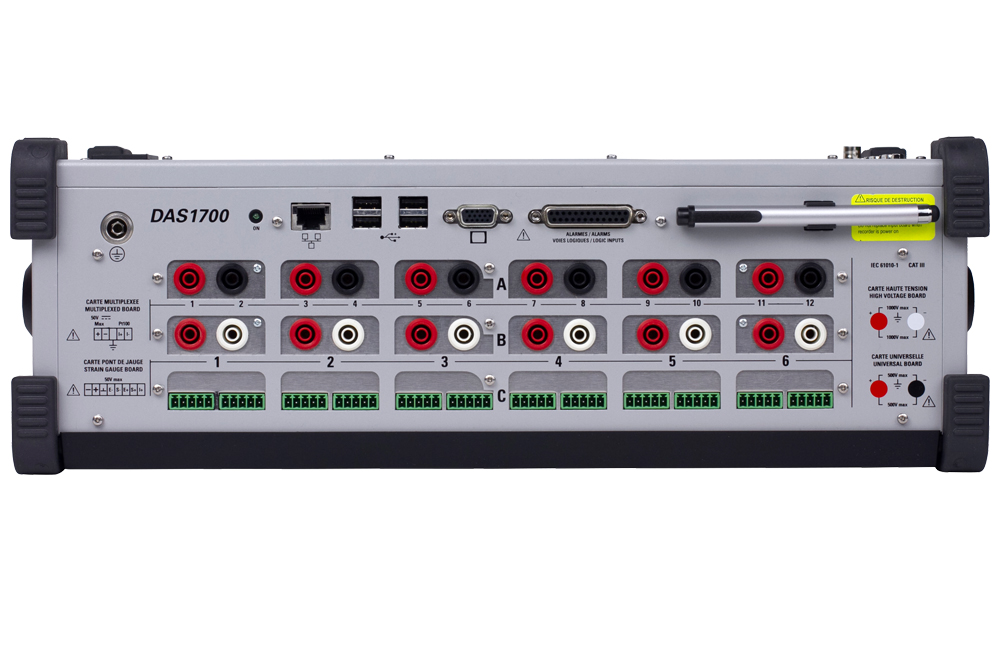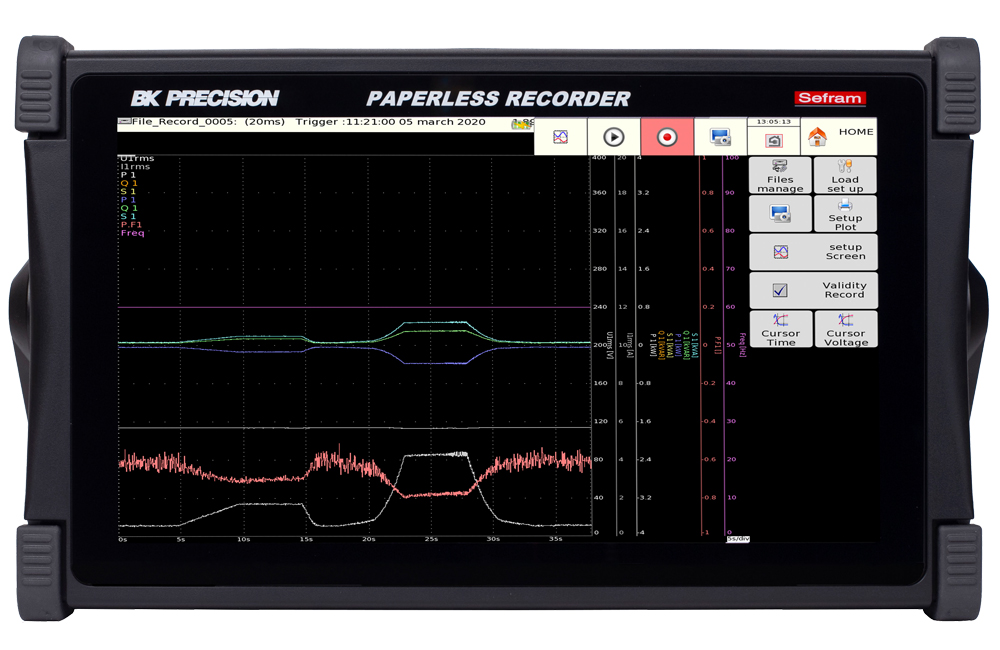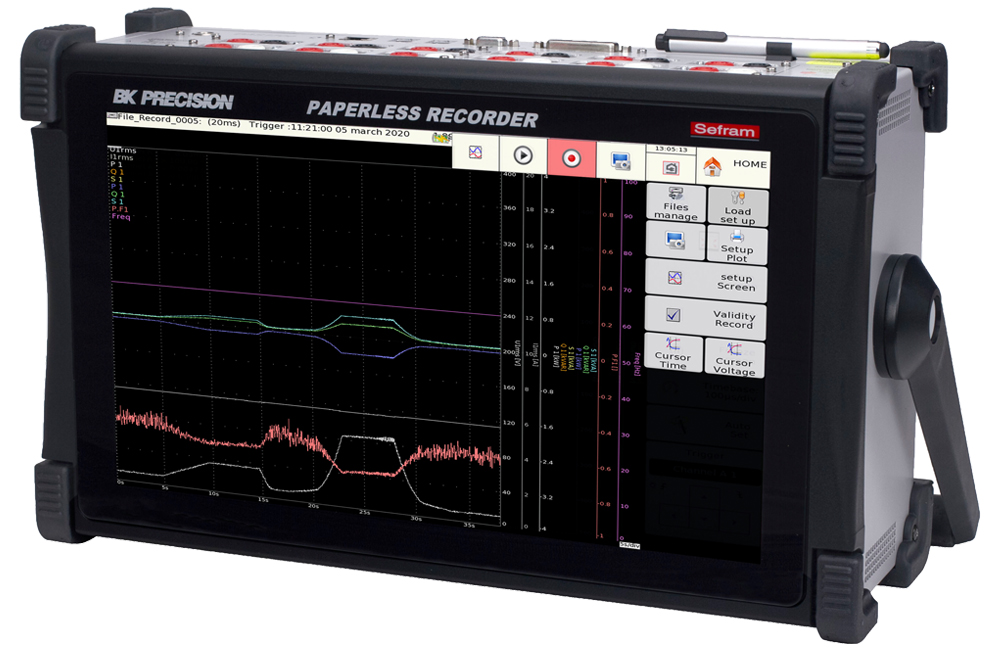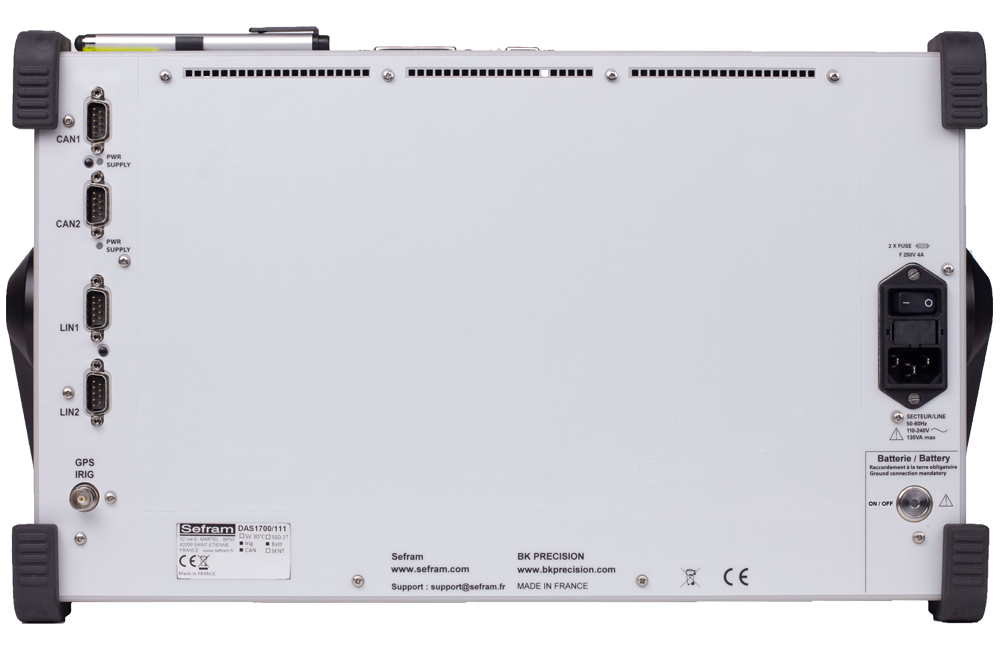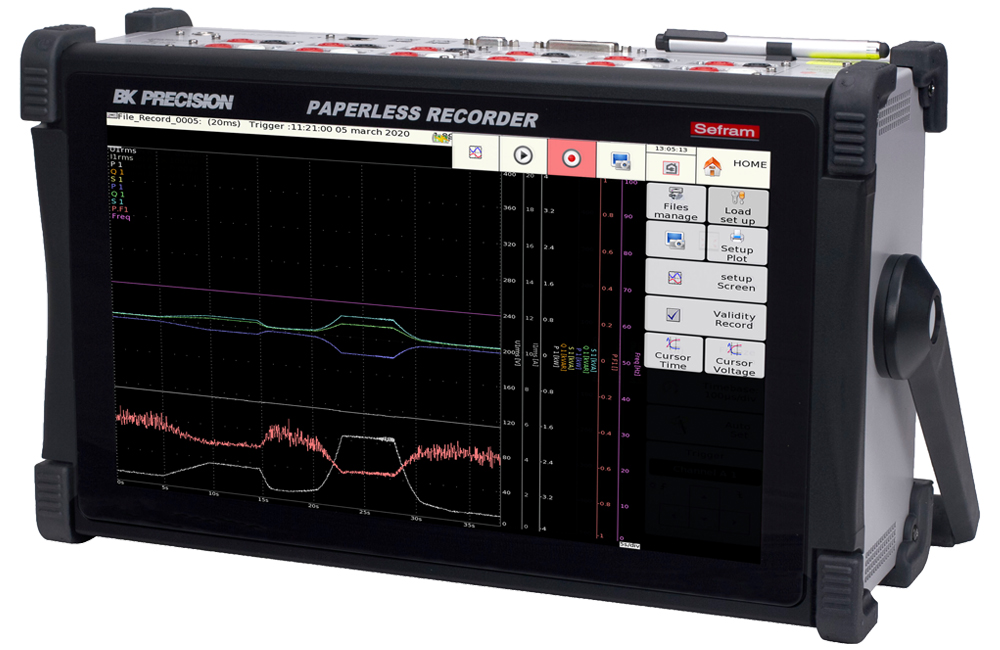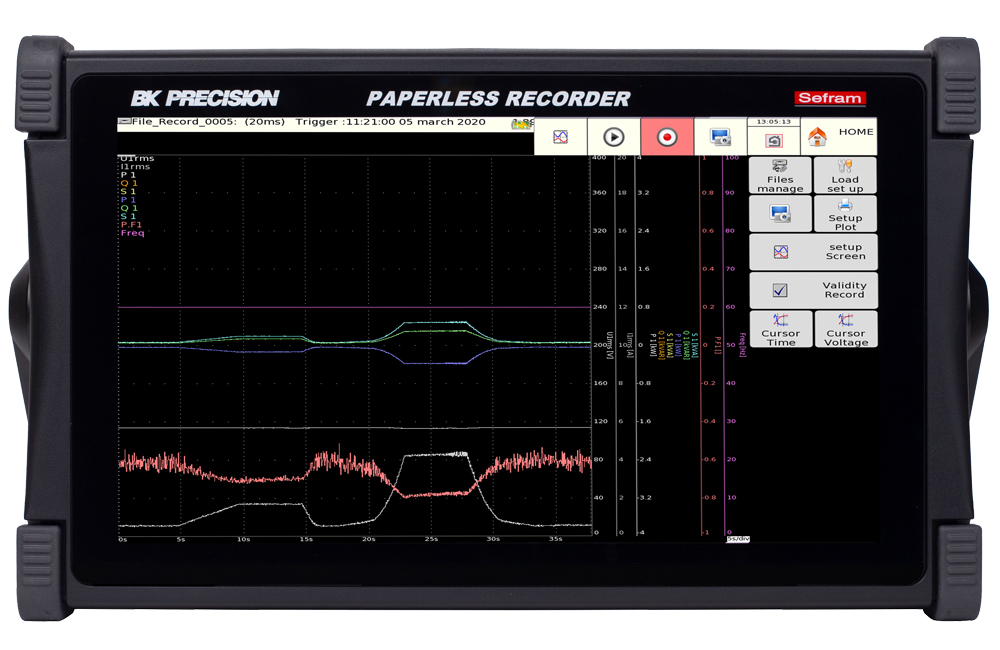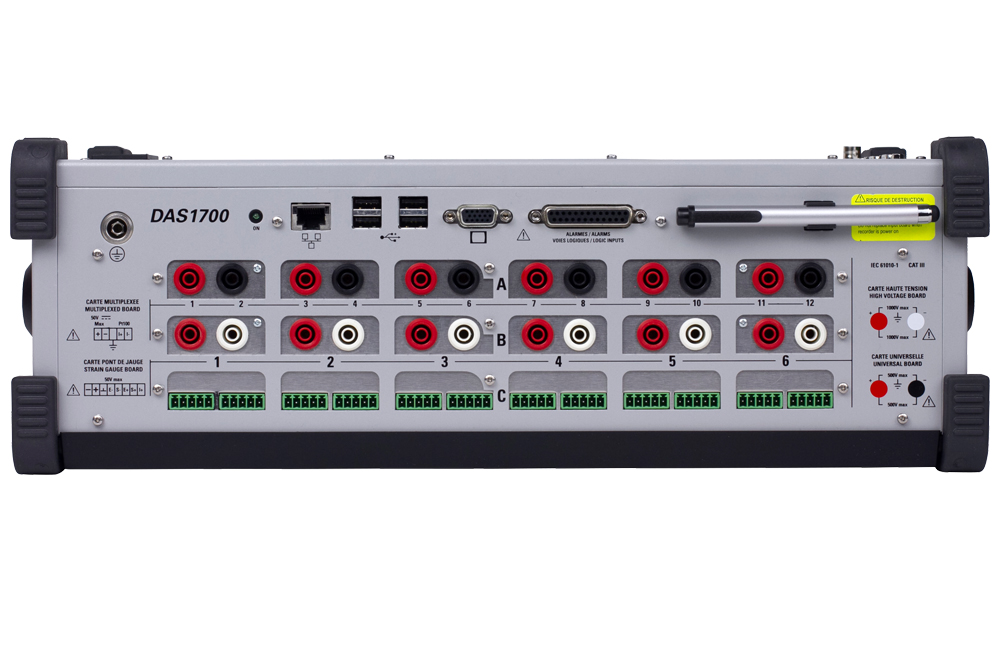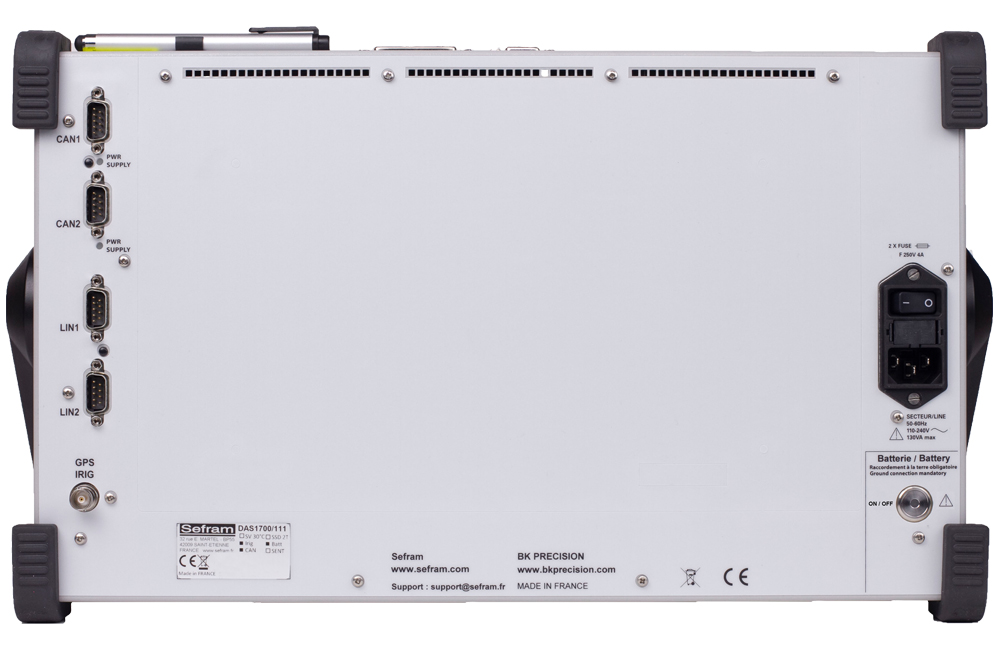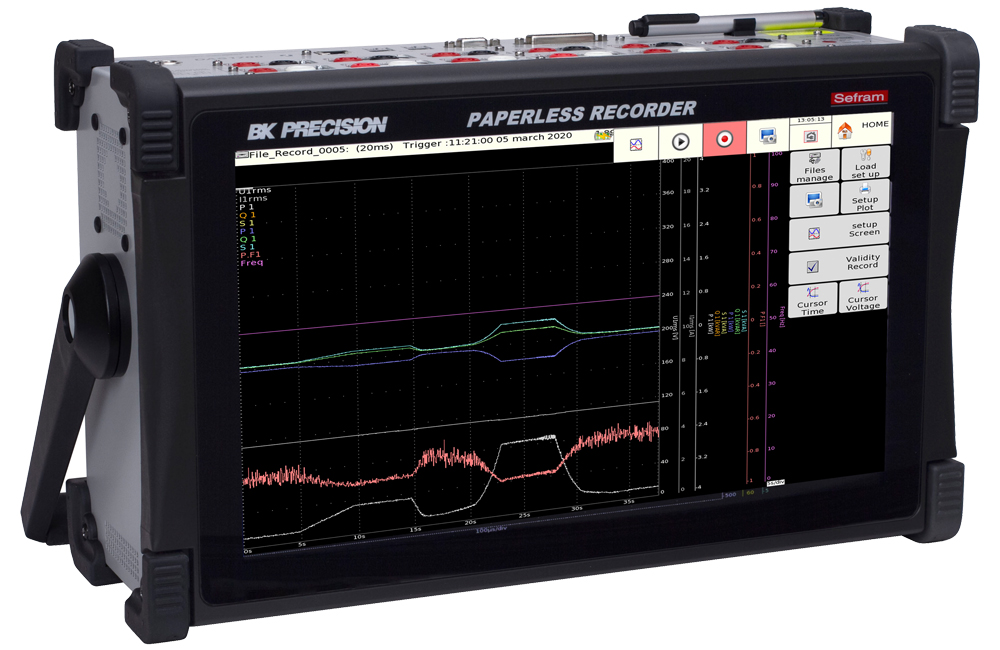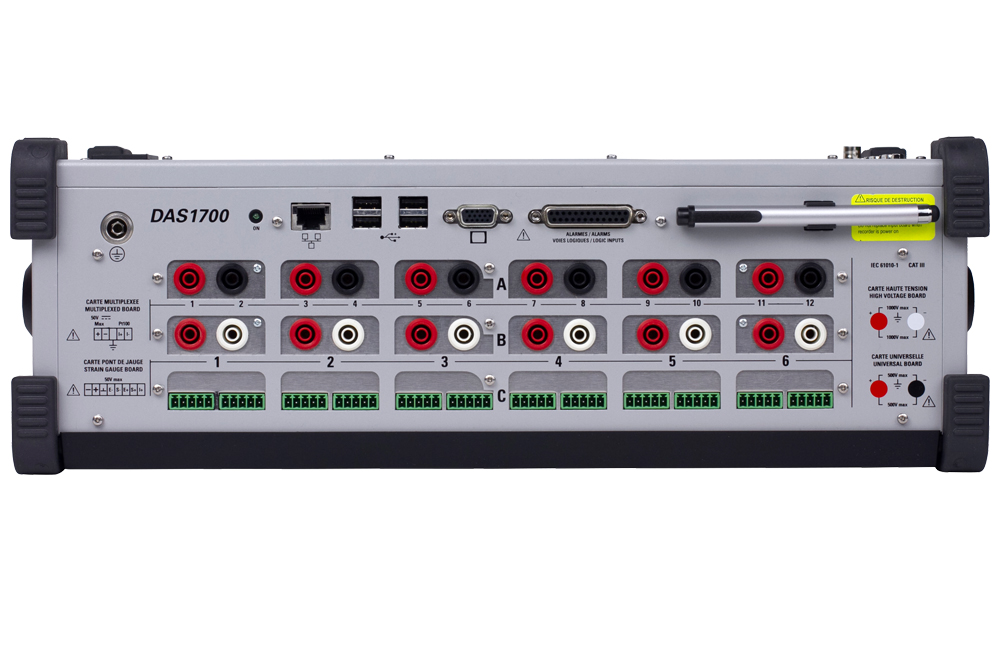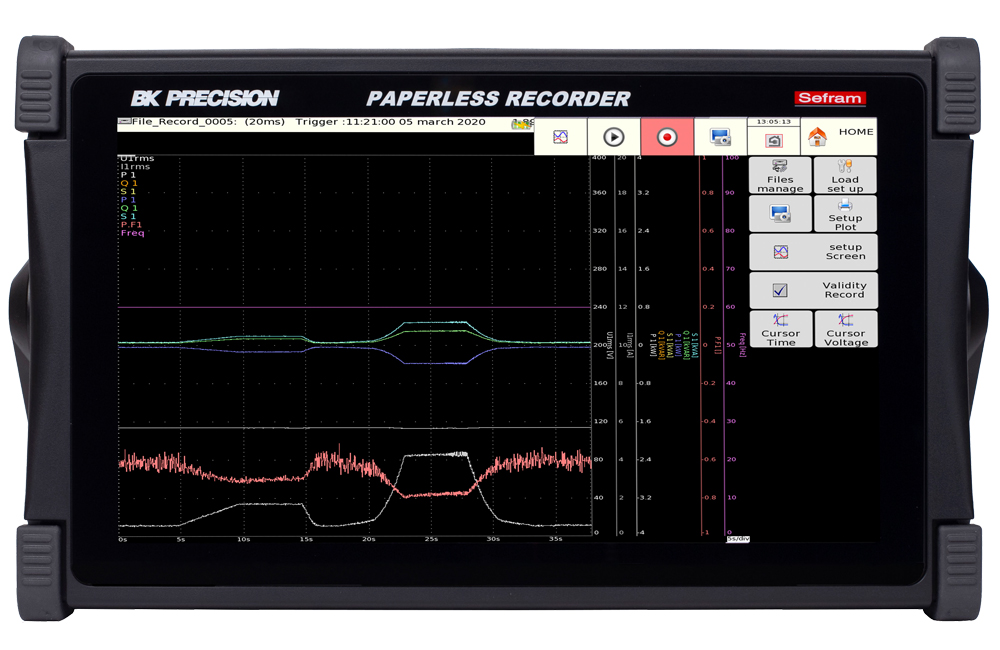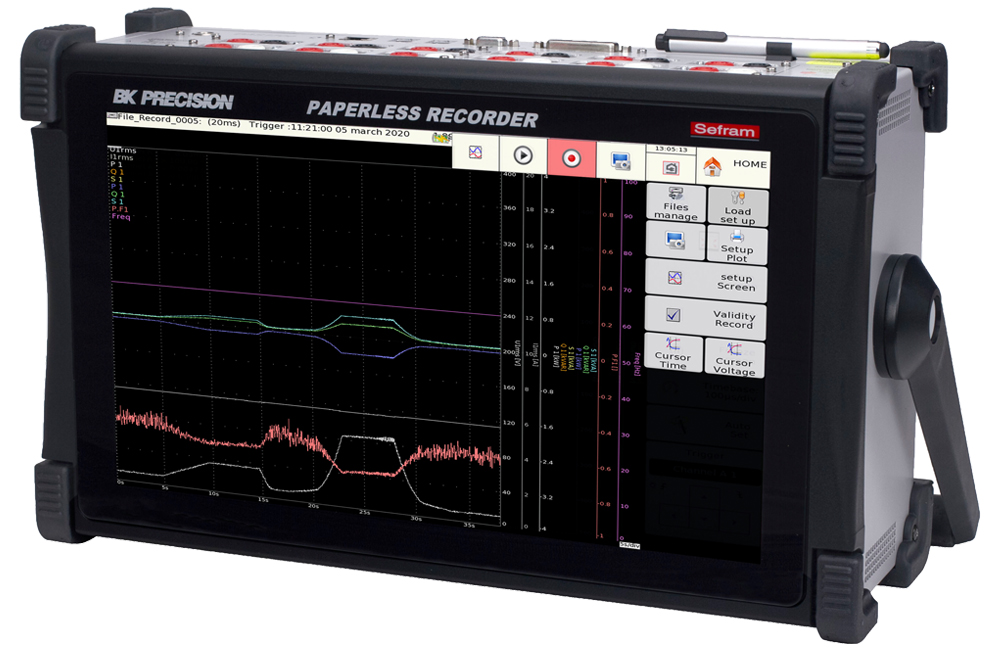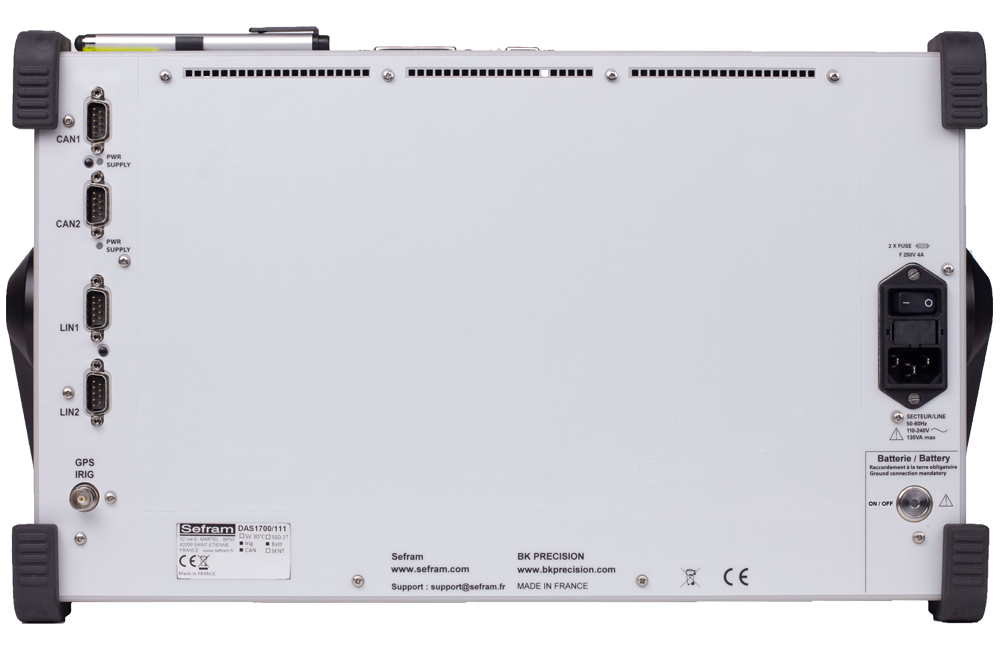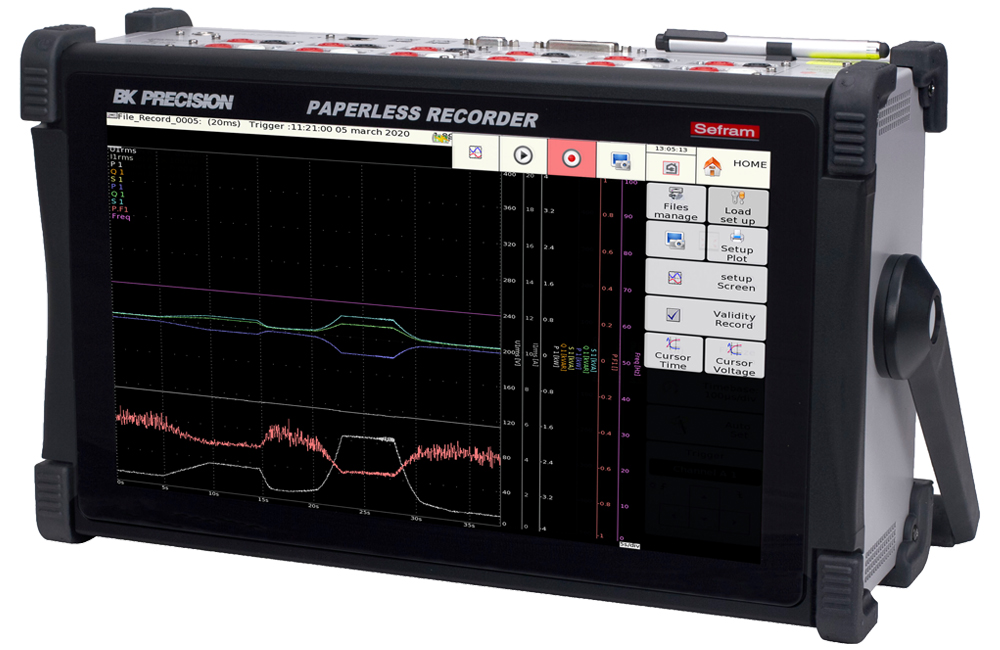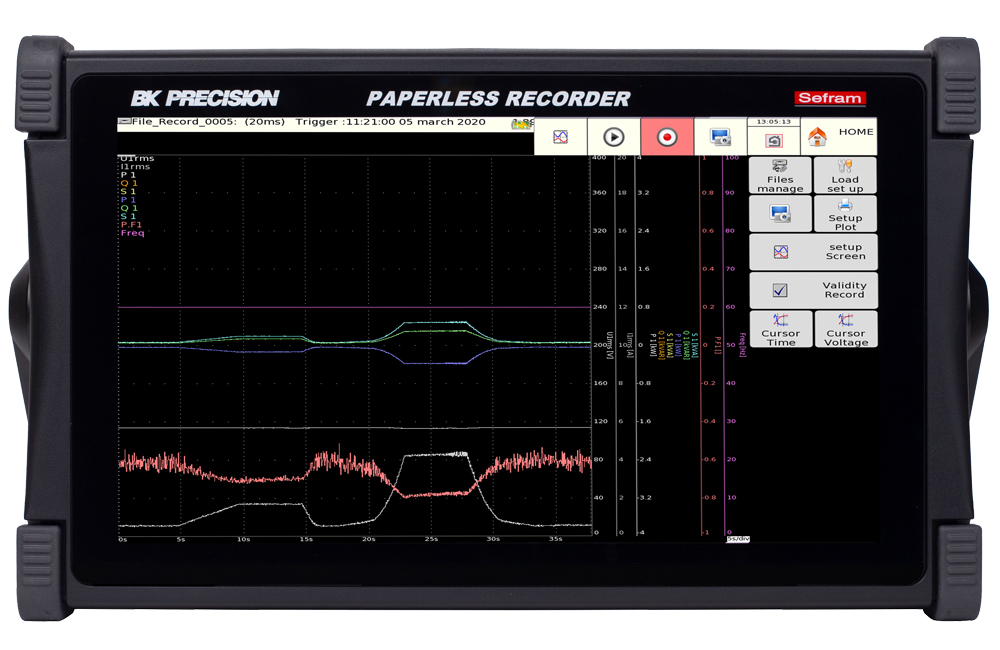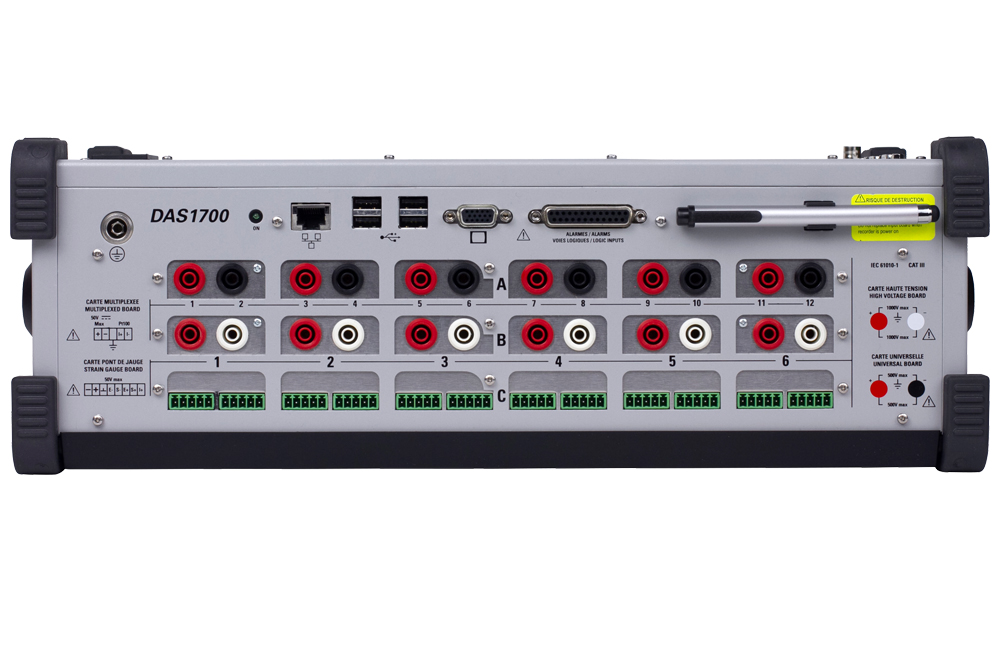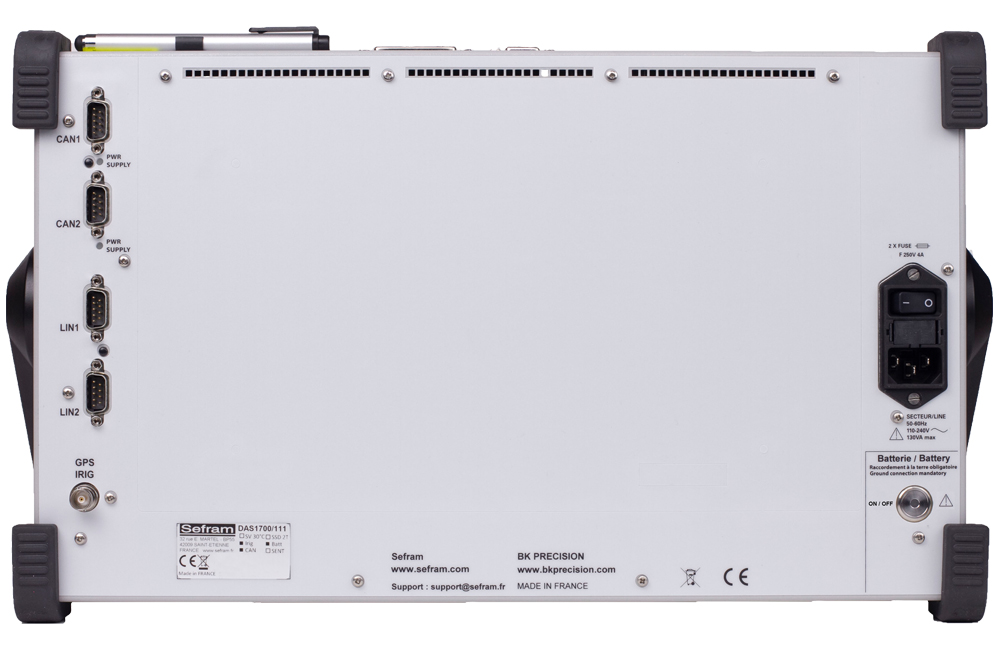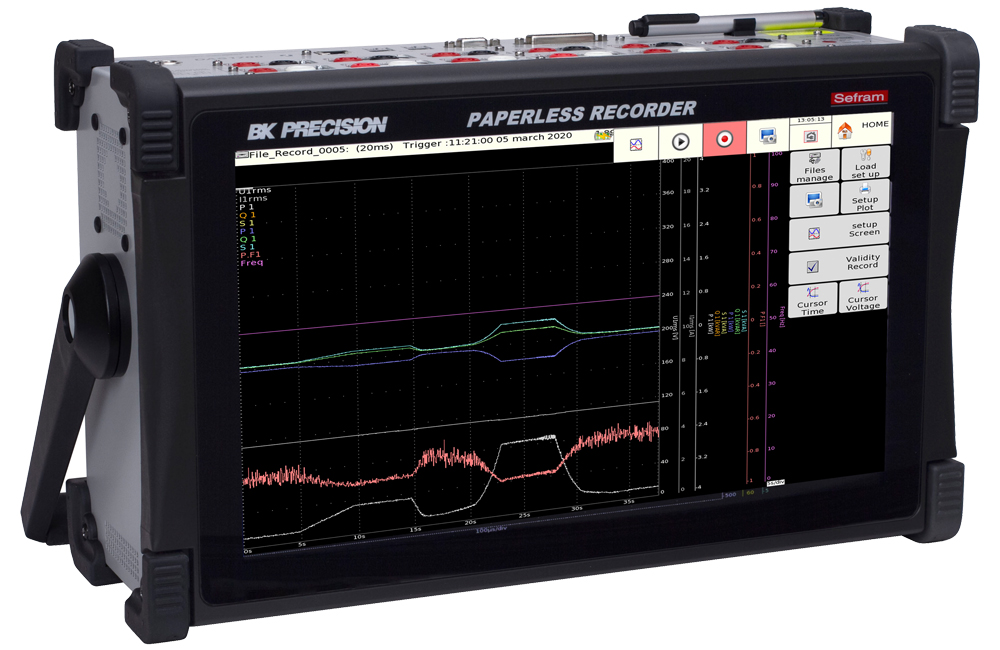 Model 917001000
DAS1700 System
Extension for DAS1700 Factory Installed
Price: $1320 / 2 yr Warranty
Overview
The DAS1700 high speed, configurable data acquisition recorder combines a fast sampling rate, deep memory, and a large touchscreen display. Built-in software tools include a dedicated power analysis mode and a function editor for complex mathematical calculations on multiple channels. Using the built-in power analysis mode, you can analyze and record all parameters for single-phase and 3-phase power networks (50/60 Hz, 400 Hz, and 1 kHz)
This high speed data acquisition system provides up to a 1 MSa/s sampling rate on up to 6 channels simultaneously while the 500 GB internal solid-state drive allows for recording over long periods. Choose any combination of 3 analog input modules, or up to 6 modules with the optional expansion chassis to configure the DAS1700 for your specific application – up to 72 channels. Available modules include universal input, multiplexed, strain gauge, and high voltage. Optional CAN and LIN inputs further extend the ability of this recorder.
The intuitive user interface makes setup easy, and measurement results can be viewed graphically and numerically on the wide 15.6-inch touchscreen display. Connect to the DAS1700 remotely via the built-in LAN interface or optional USB WiFi. B&K Precision provides software utilities for remotely controlling the recorder, transferring data and configuration files, and viewing live data on a PC. B&K Precision data loggers and data acquisition recorders are designed and manufactured in France. Support services are provided through service centers around the world.
Choose any combination of 3 boards, or add the extension module for up to 6 boards for applications ranging from small sensor signal logging to electrical power analysis.
 Features and benefits:
Fast sampling rate: up to 1 MSa/s (1 μs) on each channel
Up to 72 channels (with multiplexed board)
4 measurement board types; Universal, Multiplexed, Strain Gauge, High Voltage
Measure up to 1000 VAC with high voltage board
Temperature measurements supporting thermocouples and Pt100/Pt200/Pt500/Pt1000 sensors
CAN, LIN options
GPS and IRIG timing options
16-bit resolution with multiplexed and strain gauge boards
14-bit resolution with universal and high voltage boards
500 GB SSD internal memory (2 TB optional)
16 logic input channels
WiFi monitoring and control (standard USB WiFi dongle required)
CAT III 1000 V and CAT IV 600 V
Wide TFT display with 15.6-inch touchscreen
USB host and LAN
Battery option (up to 2 hours)
Free software for control and analysis
Rugged carrying case included
Consider the 8460 if a built-in printer is necessary.


 
Base Units
Measurement Boards
 
Mainframe
Mainframe
Universal
High Voltage
Multiplexed
Strain Gauge
Model
DAS1700
8460
DAS984401000
DAS916006000
DAS984402000
DAS984402500
Channels
-
-
6
6
12
6
Maximum Voltage
-
-
± 500 V or 424 VRMS
± 1000 V or 1000 VRMS
± 25 VDC
± 25 VDC
RMS Voltage
-
-
√
√
-
-
Resolution
-
-
14 bit
14 bit
16 bit
16 bit
Sampling Rate
-
-
1 MSa/s
1 MSa/s
5 kSa/s
100 kSa/s
Voltage
-
-
√
√
√
√
Current
-
-
√
√
√
-
Frequency
-
-
√
√
-
-
Thermocouple
-
-
√
-
√
√
Counter
-
-
√
√
-
-
Power Analysis
-
-
√
√
-
-
PRT Sensor
-
-
-
-
Pt100/Pt200/Pt500/Pt1000
Pt100/Pt1000
Options
 
Ordering Information
Mainframe Extension
Optional*
-
 
 
 
 
Battery
Optional
-
Base unit must be ordered with at least one measurement board
IRIG
Optional
Optional
 
 
 
 
GPS
Optional
Optional
Options are factory installed and must be ordered with base unit.
CAN/LIN
Optional
-
 
 
 
 
Printer
-
Standard
 
 
 
 
Models
| Product | Channels | Description | MSRP |
| --- | --- | --- | --- |
| 917001000 | N/A | Extension for DAS1700 Factory Installed | $1320 |
| 917003000 | N/A | Battery Option for DAS1700 | $1390 |
| 917005500 | 2 | CAN/LIN Option Factory Installed | $2800 |
| 917005000 | 1 | IRIG Option Factory Installed | $4200 |
| DAS984402000 | 12 | Multiplexed Board 12 Channels Factory Installed | $4250 |
| DAS984401000 | 6 | Universal Input Board 6 Channels Factory Installed | $4250 |
| DAS916006000 | 6 | High Voltage Board 6 Channels Factory Installed | $4800 |
| 984402000 | 12 | Multiplexed Board 12 Channels | $4900 |
| 984401000 | 6 | Universal Input Board 6 Channels | $4900 |
| DAS984402500 | 6 | Strain Gauge Board 6 Channels Factory Installed | $4950 |
| 984402500 | 6 | Strain Gauge Board 6 Channels | $4950 |
| 916006000 | 6 | High Voltage Board 6 Channels | $5450 |
| 917005600 | 6 | GPS Option Factory Installed | $5990 |
| DAS1700 | 72 | High Speed Data Acquisition System | $11590 |
Documents
Documentation
---
Software
| Description | Version | Download |
| --- | --- | --- |
Accessories
Additional Resources
| Resource Name | Description |
| --- | --- |
| | Why Choose an All-in-One Data Acquisition Recorder? |
| | Data Acquisition Recorder Selection Guide |